What is Car Wheel Paint and How is it Used?
When your car starts to look a little old and tired, you may consider a shiner new model, but this is can be expensive and unnecessary. There are many ways you can give your older model a new lease of life. One way to boost your vehicles appearance is to give the wheels a fresh coat of paint.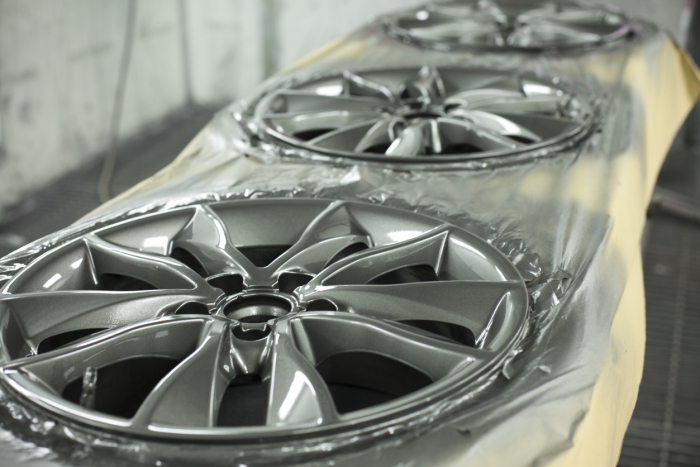 Here is everything you need to know about car wheel paint and how it is used by professionals and for DIY.
What is Car Wheel Paint?
Car wheel paint serves two purposes, firstly painting your wheel makes your car look newer and pristine. Secondly, wheel paint is formulated to improve the performance of the wheel, by making them resistant to dirt, like road salt, grime, chemicals and brake dust. Wheel paints are very hard wearing and most are chip-resistant, so your wheels will look immaculate for longer.
Wheel paint can be purchased from most high street motor stores or online and typically comes in an aerosol can. Alternatively, wheels can be professionally repaired and repainted by specialists, such as ChipsAway.
Get your FREE Repair Estimate!
Paint Colours
One of the most important things to consider with wheel paint is the colour. The most popular colour for alloy wheels is silver, however black paint is becoming increasingly popular. Car wheel paint doesn't just stop at black and silver, there are many different colours available including orange and blue.
Paint Finish
Once you have decided on the wheel colour, you can choose between a matte, satin or high gloss finish. The finish is purely for design purposes so entirely down to personal preference, but consider a finish that will match your car's paintwork.
How is Wheel Paint Used?
Car wheel paint can be used for a number of reasons. Either the wheel has scratch or scuff damage, which needs to be repaired and then repainted, or the wheel has faded over time, requiring respray. Finally, some car owners grow tired of their wheel colour and decide to get them resprayed for cosmetic details.
Car wheel paint is applied in a liquid form, so the more coats of paint that are applied, the thicker the protective layer becomes. To achieve the best finish on an alloy wheel, preparation is key. The whole wheel must be clean and smooth before paint can be applied. This is because dust can become trapped in the paint and create an unattractive finish.
If you are considering painting your wheels at home, here is everything you need to know about the painting process.
Difference Between Wheel Paint and Powder Coating
The main difference between powder coating and conventional wheel painting is that powder coating offers much tougher finish than traditional painting techniques.
Car paint is applied as a liquid, but powder coating is applied as, you guessed it – a powder. The powder cures to the wheel, creating a durable skin with a much tougher finish.
For more information on powder coating, read our How Does it Work blog here.
Benefits of Using Paint
If your wheels are chipped and worn, wheel paint will make them look as good as new, giving the whole vehicle a fresh look.
Some wheel paints will also protect the alloys from road debris, which can lead to chips, corrosion and rust.
Applying a wheel paint at home or having a professional refurbishment is often cheaper than buying a new set of alloy wheels. If your wheels are in good condition, the vehicle is more likely to hold its resale value.
If you have damage to your alloy wheels, its best to get them repaired and repainted by a professional. ChipsAway's alloy repair service eliminates the need to purchase new wheels and can refresh the look of your entire car. And for peace of mind, ChipsAway alloy wheel repairs are fully guaranteed*.
Give us a call on 0800 145 5118 or click on the button below to get your free alloy wheel repair estimate today.
Get your FREE Alloy Wheel Repair Estimate!
ChipsAway specialists also offer repairs for Paintwork Scratches, Minor Dents and Bumper Scuffs, so why not get your whole car looking in pristine condition?
*Alloy wheel repairs are guaranteed for 6 months from date of repair.