Alloy Wheel Refurbishment Techniques
Accidentally scuffing your shiny alloy wheels is a pretty good way to ruin your day. Even your week! High kerbs, distractions and enormous potholes can all be causes of damage. Plus it can happen to even the most cautious of drivers. But minor Alloy Wheel damage can usually be repaired at home or by a professional, so there's no need to panic.
Alloy wheel refurbishment requires an expert technique and attention to detail to produce the best results. There are many different techniques to repair damaged alloy wheels. So, it is important to consider the type of alloy wheel you have. Many modern cars come as standard with Diamond Cut alloys, which can only be repaired by professionals.
We have listed some different alloy wheel refurbishment techniques below:
DIY Alloy Wheel Repair Kit
Kerbing your alloy wheels is extremely common, we've all been there. Whether you have misjudged a parallel park or are driving a new car for the first time. The kerbs seem to be getting higher and wider. But thankfully you can repair minor damage to an alloy wheel at home – if you have the patience!
There are many DIY alloy wheel repair kits on the market, suitable for minor damage. However, these repair kits are not suitable for large areas of damage to the wheel. An alloy repair kit may save you money, but will not save you time and cannot guarantee a professional finish.
Read our detailed guide of how to use an alloy repair kit here.
Diamond-Cut Alloy Refurbishment
Diamond-Cut alloys are becoming more and more popular. This type of alloy is now one of the key components in the design of modern vehicles. A Diamond Cut alloy is an alloy wheel that has had part or all of the painted surface removed to leave a shiny finish. The alloy is then lacquered over to prevent corrosion.
Diamond cut alloys add appeal and luxury to the appearance of new vehicles. However, many owners will be unaware that diamond cut alloy repair can be more difficult than non-diamond cut alloy refurbishment.
Diamond-Cut alloys cannot be repaired at home, as they require a lathe to be refurbished. Diamond-Cut alloys are first removed from the vehicle and are repaired using a lathe. The lathe removes old layers of lacquer and paint, this provides a smooth surface for repairs. A first stage powder coat finish is applied and cured. Once dry and cooled, a thin layer is cut from the alloy using a lathe and then a clear lacquer is applied. The alloy is then returned to the oven for one final cure.
Whilst a mobile specialist would not be able to repair Diamond Cut Alloys from their mobile workstation. This equipment can be found in some of our ChipsAway Car Care Centres. How much diamond cut alloy repair costs depends on how extensive the damage is and how many alloys need repair. To find out if ChipsAway can repair Diamond Cut Alloys near you, you can find your nearest specialist here.
The ChipsAway Alloy Repair Technique
For most, your car is your pride and joy. So it is important that your alloy wheels are restored to a high standard by a professional to avoid future erosion.
If you don't have the confidence to use an alloy repair kit or want a professional, guaranteed* finish, then you don't need to continue searching for "diamond cut alloy wheels repair near me". You need look no further. You can always call your local ChipsAway specialist to complete an alloy wheel repair.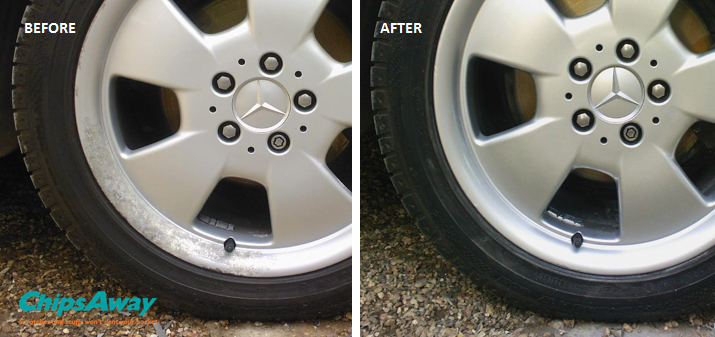 Our alloy repair service involves our specialists cleaning and preparing the area, and sanding the alloy to remove damage before applying a filler to any chips in the alloy. Finally, they will finish with primer and paint application. To understand in more detail how ChipsAway complete an alloy repair. Take a look at our blog post: How Does Alloy Wheel Repair Work?
Book a ChipsAway Alloy Repair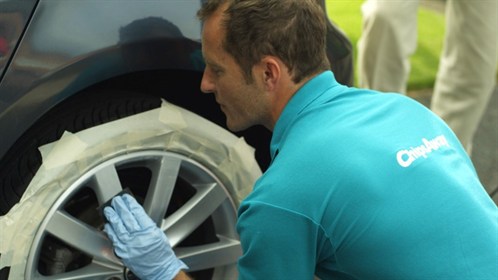 We have a nationwide network of mobile repair specialists. This means the alloy repair could be completed at your home or work. Alternatively, you can visit one of our Car Care Centres if they offer the alloy wheel repair service.**
Booking your alloy wheel repair is easy, simple complete our online form or call us free of charge on 0800 145 5118 for a free estimate.
*Alloy wheel repairs are guaranteed for 6 months from date of repair.
**Please note, the ChipsAway alloy wheel repair service is only available in certain locations within England, Scotland and Wales. To find out if your local specialist offers an alloy wheel repair service, please complete our online form here.