3 Different Types of Car Wheel Damage
We have all been there, the devastating moment when you hear your wheel hitting a pothole or scraping the kerb. With your fingers crossed and your eyes closed. Hoping the damage isn't as bad as it sounds. If sadly, your wheel is damaged, driving can be very dangerous. So it's wise to get your wheel checked and repaired (or replaced depending on the extent of the damage) as soon as possible.
If you are not sure how to identify damage to your wheels and tyres. We have listed 3 common types and the next steps you should take to get them repaired.
 Tyre Wheel Damage
One of the biggest concerns for UK motorists is poorly surfaced roads and potholes. Which can cause damage to your wheels, especially in winter. If your wheel hits a deep pothole, even at a slow speed it can cause damage to your tyre and could lead to a puncture. If the impact is at speed. It may split the tyre, causing it to lose pressure immediately. Most people will know instantly if they have a damaged tyre. As it may cause a lack of control over the vehicle. However, wheel damage is not always immediately obvious, so pull over and check your wheel is safe to drive on.
If your tyres are split or damaged. It's important to get the tyres repaired or replaced by a professional garage to keep your car in safe working order.
Dent Damage to Alloy Wheels
Not only can potholes cause damage to tyres. But when hit at speed, potholes can leave a large dent in your alloy wheels. If you have driven over a pothole by accident. It is worthwhile checking your alloys and tyres, for any signs of damage.
If your alloy wheels become dented due to hitting a pothole, not only will this affect the overall look of your car. But damaged alloy wheels could cause issues when driving too. So it's important to get them checked to ensure they are still safe to drive and also get them repaired by a professional.
Alloy Scuffs and Kerbed Alloy Damage
Probably the easiest way to damage your alloy wheels is to accidentally touch or scrape the kerb edge when parking. Kerbs are usually constructed from concrete or granite. So contact with an alloy wheel will result in a scratch, scuff or chip damage to the alloy rim. Kerb scuffs occur all too easily – normally when you drive too close to the pavement or misjudge a parallel park and the feeling always brings instant regret! But alloys can quickly be repaired at home or by an alloy repair specialist.
Scratching your alloy wheels on the kerb shouldn't affect the driving of your car.  However, it can make your vehicle look old and unloved. We know how much you love your car, so it's best to get any alloy scuffs repaired by a professional.
Why call a professional?
Your wheels and tyres ultimately keep your car moving. So it is important to look after them and get any damage repaired by a specialist. Tyres can often be repaired or replaced at a local car garage or MOT centre.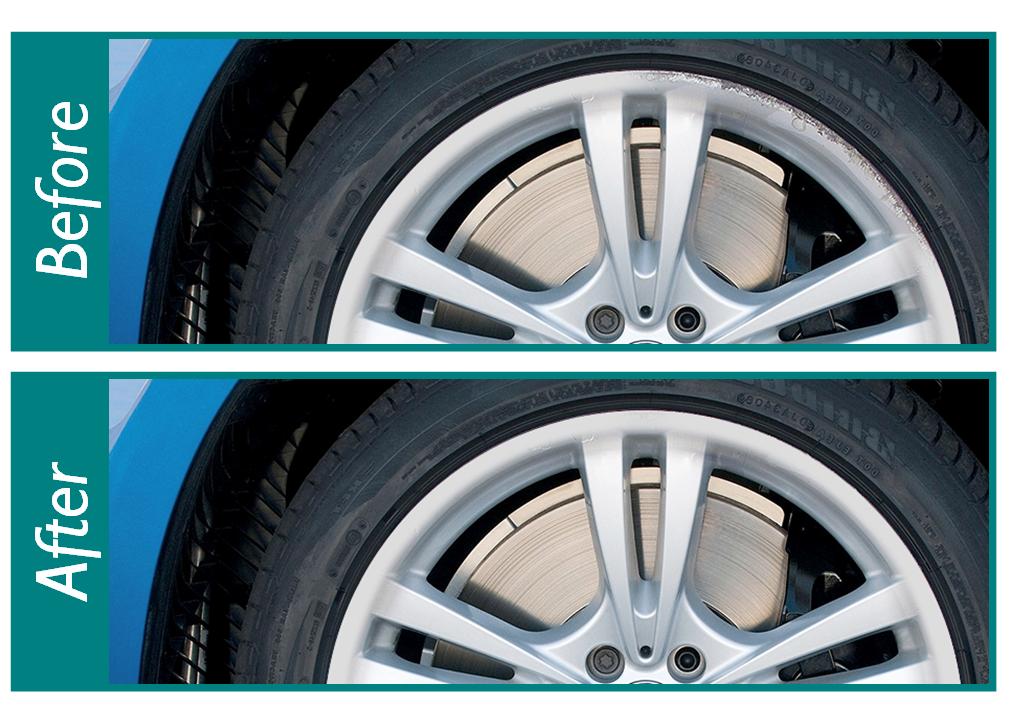 ChipsAway offers a professional alloy wheel repair service for scuffed alloys and kerbed alloy wheel rims. ChipsAway repair specialists are able to repair your alloy wheels, and we are so confident in our repairs, all alloy wheels repairs are fully guaranteed*.

*Alloy wheel repairs are guaranteed for 6 months from date of repair. T's and C's Apply.