Your Guide to Alloy Wheels: Installation and Repair Considerations
If you're looking to improve your car, without the expense of buying a new one, there are ways to achieve the look and feel of an upgrade with some exciting wheel modifications.
Making changes to your car's appearance with new alloy wheels is a great way to instantly elevate your car's look and feel – trading in old rims for something special and new.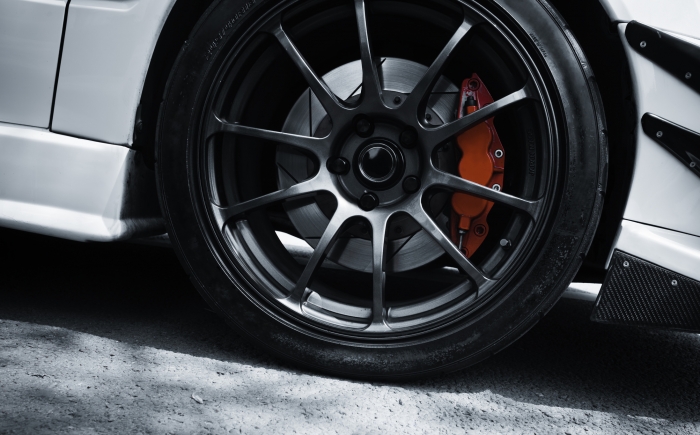 Here we guide you through some installation and repair considerations for your vehicle's new alloy wheels, looking at basic information to do with alloy wheels, all the way through to installation and care once they are on your car.
Get to grips with alloy wheels
Alloy wheels are a straightforward and popular wheel choice to elevate your car's appearance due to their striking look, as well as the ability to choose a custom design to suit your taste and car requirements. Made from a mixture of metal, alloy wheels can be designed in a variety of different ways, as well as be painted or powder coated to completely customise the finish and complement your car. What this means is that, whatever look you want for your car's wheels, alloy wheels can help you get there.
Alloy wheels are also performance-friendly; due to their lightweight material, alloys actively contribute to reducing fuel consumption, improved acceleration, as well as overall handling and improved braking performance.
Due to their build and nature, alloy wheels also have improved longevity and durability, so are a great investment as they are more resistant to corrosion and are therefore less likely to need repairing.
They are a great way to improve your car's appearance, performance and longevity, so now it's time to pick the best alloys for your car.
Alloy Wheel Installation Considerations
Which alloy wheel do you need?
The trickiest part when choosing which alloy wheel is best for your car, is choosing the correct size you need. Once you have done that then you will need to look at how to install the right alloy wheels for your car.
The fail-safe option when choosing new allow wheels for your car is to choose the same size alloy as your existing wheel/tyres. Matching the diameter size with your tyre is the simplest way to successfully install alloy wheels on your car. To avoid making the mistake of buying the wrong size alloys to fit your car, you can typically find the size of your car's wheels printed on the outside of the tyre itself.
Can I install bigger alloy wheels?
It is common to want to go larger with choosing alloy wheels when upgrading the look and performance of your car, but be mindful of the instalment limitations with your current tyres.
Large alloys will no doubt look impressive and are available in larger 16 to 19-inch diameters. When installed correctly, larger alloys not only look great but improve the comfort and performance of your car across different terrains and varying weather conditions.
When choosing appropriately sized alloy wheels for your car, you'll need to consider your current tyre size, as failing to do so could lead to problems with steering and accelerating as the tyre could touch and rub against the wheel arch or suspension components when going too large with your alloys.
For a smooth installation, you will need your outer tyre size to be as close to the size of your new alloy wheels as possible.
How to fit larger Alloy Wheels properly?
If you plan to go ahead with larger alloy wheels on your car makeover, sizing up to a bigger inch alloy than your existing wheel for the wow factor is likely.
If this is the case, simply going up one size from your current wheels with new alloys shouldn't cause a fitment problem for most cars. For example, upgrading from a 17-inch with an 18-inch alloy wheel won't cause a rubbing or scraping to the wheel arch, or other possible issues. But checking your car's alloy wheel alignment with a professional is recommended.
Alloy Wheel Installation Considerations: Step-by-Step
It is important to fit and balance your new alloy wheels correctly when updating your vehicle, if you are not sure how to do this, we would always advise that you seek professional assistance for your safety on the road.
Check your new alloys will fit your wheel
It is important when upgrading your alloy wheels to check the Pitch Circle Diameter (PCD) and the wheel offset, as you need to make sure that your new alloy wheels align with the central wheel hub.
The PCD refers to the number of holes for the wheel studs and the spacing between two holes sitting opposite each other. While the wheel offset concerns the centre wheel alignment and the correct mounting to the axle. Failure to do this properly risks causing damage to the suspension and brakes, as well as the handing and steering of your car.
Mount your new alloy wheel
Using the necessary spacing rings and bolts included with your new alloys, correctly fit the alloy wheel to the centre of the axel, eliminating any movement and vibrations with a secure fitting. Also make sure there is sufficient space around the wheel from your wheel arch, suspension and brakes, by spinning the wheel.
Correct your alloy offset
Alloy wheel offset is an important part of the fitting as it determines the position of the wheel on the axle. Particularly if you have fitting larger alloy wheels, making sure the offset is correct is important to avoid rubbing or friction is extremely important – make changes to your fitting if any contact is made.
Check your car manufacturers recommendations
As tempting as it is to bolt on any size alloy wheels to your vehicle, the wheels and tyres should always follow your car manufacturer's recommended sizes and load ratings. Balance and adjust your tyres, ensuring your wheel torque and tyre inflation are correctly adjusted to your car maker's advice, to secure your car handling and performance.
Taking care of Alloy Wheels: Care and Repair Considerations
An impressive set of new alloy wheels can boost the overall value of a vehicle, making it a great investment if you are considering selling your car in the future.
So once your new alloy wheels are installed, the aftercare and effort taken to maintain their pristine appearance will be important. Should your alloy wheels become dirty or even damaged due to unfortunate circumstances when driving or parking, you will need to take care of them to keep your car's condition and performance at its peak.
What type of alloy wheel damage do you have?
There are 3 types of alloy wheel damage, which you should pay attention to and get checked out and resolved as soon as possible to avoid further erosion. Whether it's a scuff, dent, or scrape, getting them repaired can be a quick and easy process when in the hands of professionals such as ChipsAway. We know how much you love your car and it's always best to let a specialist take care of the damage for a flawless finish.
How to clean your alloy wheels
Cleaning your wheels regularly will avoid a build-up of grime while investing in an appropriate cleaning material from a specialist will help you take good care and improve the overall condition of your shiny new alloy wheels.
Don't be afraid to delicately clean in the crevices of your alloy spokes with a toothbrush and rinse your wheels regularly to improve their lifespan. This level of care will protect them from harmful dirt and dust eroding your new alloy wheels, especially if you have a chip or dent beneath, you need to be aware of sooner than later.
How to repair damaged alloy wheels?
Thankfully, due to their nature of alloy wheels and being made from steel, they are very strong and it is unlikely you will crack them or cause too much damage. Surface damage is still possible, where small dents are scruffs will need resolving – but alloy wheel damage is easier to repair than other wheel options.
Seasonal changes and challenges can of course impact your wheels, so taking your car for regular inspections will help prepare your wheels for the elements accordingly. Of course, clipping kerbs, pesky potholes, or driving on underinflated tyres will cause wheel damage, so sometimes these things are inevitable. How you deal with the damage will be important.
Can I DIY repair alloy wheels?
You can attempt to repair alloy wheel damage at home with a DIY alloy repair kit. They are a good option for light to medium scratches around the edge of your wheel but are generally not suitable for large areas of damage.
For a professional finish that won't disappoint, a perfect alloy wheel repair job is a phone call away. Some of our specialist alloy wheel repair technicians are even available to visit you at a convenient time.
Professional Alloy Installation and Repair
If you still have any questions about the instalment of your alloy wheels or advice on carrying out alloy wheel repairs, contact ChipsAway today.
We can resolve your alloy scuffs and scrapes, repairing your alloy wheels to an excellent condition. Call us today on 0800 145 5118, or use our online form to find your local ChipsAway expert.
Read more: ChipsAway Alloy Wheel Repair Review