How to Find the Perfect Match for Your Automotive Paint
If your car's paintwork has unfortunately been damaged and you are looking to touch up the paintwork, you will need to use the exact same shade of paint as the rest of the car. Using a slightly different shade will stand out and draw more attention to the damage. This is why it is important to use the exact automotive paint shade.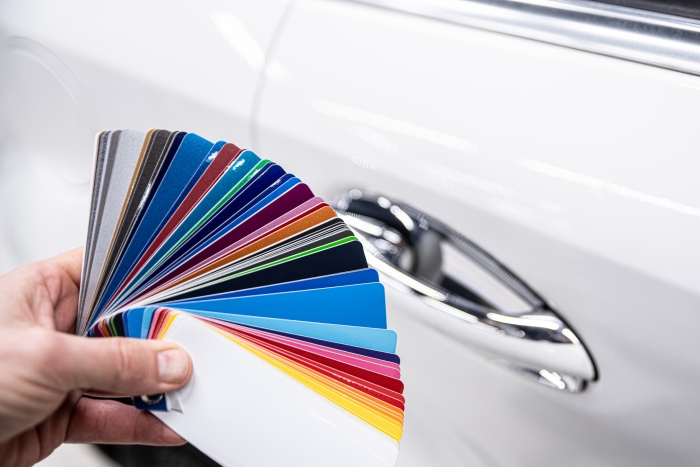 However, with so many different shades of car body paint, it can be difficult to know which one will match your car. So you need to know your car's paint colour code.
What is a colour code?
The colour of your automotive paint is associated with a specific code. The purpose of a colour code is so the paintwork can be quickly matched if your car ever needs to be repaired and resprayed. Once you have found your colour code, you can then find the paint to match and begin to touch up your car.
Locate your automotive paint colour code
The quickest and easiest way to discover the perfect match for your car is by finding its colour code. Firstly, you will need to find the colour code, this can be found somewhere in your car. However, finding it may be the trickiest part. There are many different places the code could be:
Under the driver's seat
Inside the glove box
On the boot lid
In the well of the spare tire wheel
Drivers side inside door panel
If you cannot find your paintwork colour code, you should also be able to locate the paint code inside your owner's manual.
What do to if you can't find your colour code?
If you are struggling to find the colour code, there are some online paint code finders that require you to enter some of your vehicle details in order to find the colour code. For the most accurate reading of your colour code, you can get your vehicle professionally repaired by your local ChipsAway specialist who will perform a Spectro reading to identify the car's exact colour code.
After you have retrieved your colour code
Once you have retrieved your automotive paint colour code, you may attempt to touch in the paintwork yourself. Firstly you will need to purchase the car paint online or in a store such as Halfords. If you are unsure if the paint is correct, you can test it out before applying it. To do this, paint a piece of metal and allow it to dry. Once dry, wax the painted metal and then hold it up against your car and compare the colour. If you can't tell any difference then it's good to go, however, if there is a dramatic difference in the shade, do not use this as it will only draw more attention to the damage. Instead, go back and double-check the paint code is correct or take it to a professional.
Professional Car Body Repairs
ChipsAway specialists offer professional colour matched car body repairs in your local area. During the ChipsAway repair, an accurate colour match is obtained using a tool called a "spectrophotometer", which matches the manufacturer's finish on your car with pinpoint accuracy. What this means is that, instead of an expensive paint repair across a whole panel, our ChipsAway professionals only need to paint the damaged area. What is more, the spectrophotometer ensures that the repair blends seamlessly into the rest of the car.