What colour is my car?
If your car needs a paintwork repair, you may need to locate the colour code of your car. While some might consider black to be a universal colour, each manufacturer has specific paint codes. Even if two colours look the same, car manufacturers make many different paint colours each year, so you need to know the exact colour code for your vehicle based on the make and model of your car, as well as when it was manufactured.
How to Find the Colour of your Car
When trying to find out the precise colour of your car, it all comes down to the colour code. This specific code, which may take the form of a number and/or letter combination, correlates with a specific paint formula and name that will perfectly match your vehicle.
Luckily, finding your car's colour code isn't the hardest task in the world, and there are several ways to locate your paint code within the vehicle. Such methods include looking inside the driver's door frame, under the bonnet, in the glove box or in the spare wheel well for the elusive number. There are various points where your car's colour code could be listed, but the image below shows the most common locations.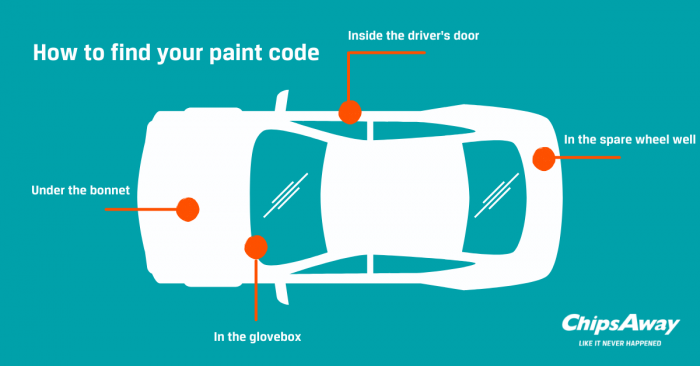 There are also a few online guides that will tell you the location of your colour code. This guide from Car Colour Services, or your car handbook may be able to help.
Finding the precise colour code of your car can become more difficult with classic cars, but it's not impossible. The number of places where the code can be found is greater and varies according to the year of manufacture. With older cars, the code will be somewhere in the engine bay.
Paint Code By Reg
Unfortunately, there is currently no online tool that identifies the car's paint code from the registration (REG) number. That being said, if you contact your local dealership, they should be able to provide the colour code from your registration and car details.
Owner's Manual
Your car's paint colour code should also be in your owner's manual and service history booklet. Just jump into the contents page or index, and it should point you in the right direction.
ChipsAway Colour Match Technology
Are you wanting to find your car colour because your car's paintwork is damaged?
With a ChipsAway repair, you don't need to worry about finding your car's paint code. This is because ChipsAway specialists can quickly locate the manufacturer's colour code and then use the latest technology in order to create the perfect match. Our experts understand that sometimes car colours can vary from the manufacturer's codes ever so slightly, and so use something called a spectrophotometer to scan the paint for the specific tone. ChipsAway specialists then replicate the paint colour with their specialist range of tints. As many as 7 tints can go into the mix to create the perfect colour specific to your car.
What Type of Paint is Used on Cars?
To help the paint adhere to the metal, cars are first sprayed with a primer. The paint is then applied, followed by lacquer to create the best finish.
EU legislation was introduced in 2014 affecting the supply and application of automotive paint products. This limits VOC emissions, which potentially damage the environment. Acknowledging this legislation, ChipsAway developed a type of environmentally friendly paint called AquaClear. AquaClear allows the highest quality paintwork repairs to be carried out safely and legally. We can do this within both mobile and Car Care Centre environments. AquaClear retains the use of much safer non-Isocyanate materials.
Our Favourite Car Colour Names
In the course of researching this post, we came across several inventive colour names, but these ones stood out:
Panther black (Ford)
Willow catkin (Hyundai)
Silky beige (Hyundai)
Nightfall blue (Lotus)
Strawberry red (Nissan)
Aromatic aqua (Suzuki)
Prosecco (Porsche)
Car Scratch and Dent Repair from ChipsAway
So, if you need a paintwork repair, contact your local ChipsAway specialist today for a free no-obligation estimate, and leave the colour code search party to us.