What is a SMART Repair?
Getting a scratch or dent on your car can be incredibly demoralising. When your vehicle gets damaged, for whatever reason, getting it fixed is usually a top priority. Not only does getting your car fixed ensure that the aesthetic of your car remains intact, but in certain cases (like scratches on car bodies) it can also help safeguard your car against future damage by ensuring the damaged area doesn't get any worse. This is where SMART repair comes in.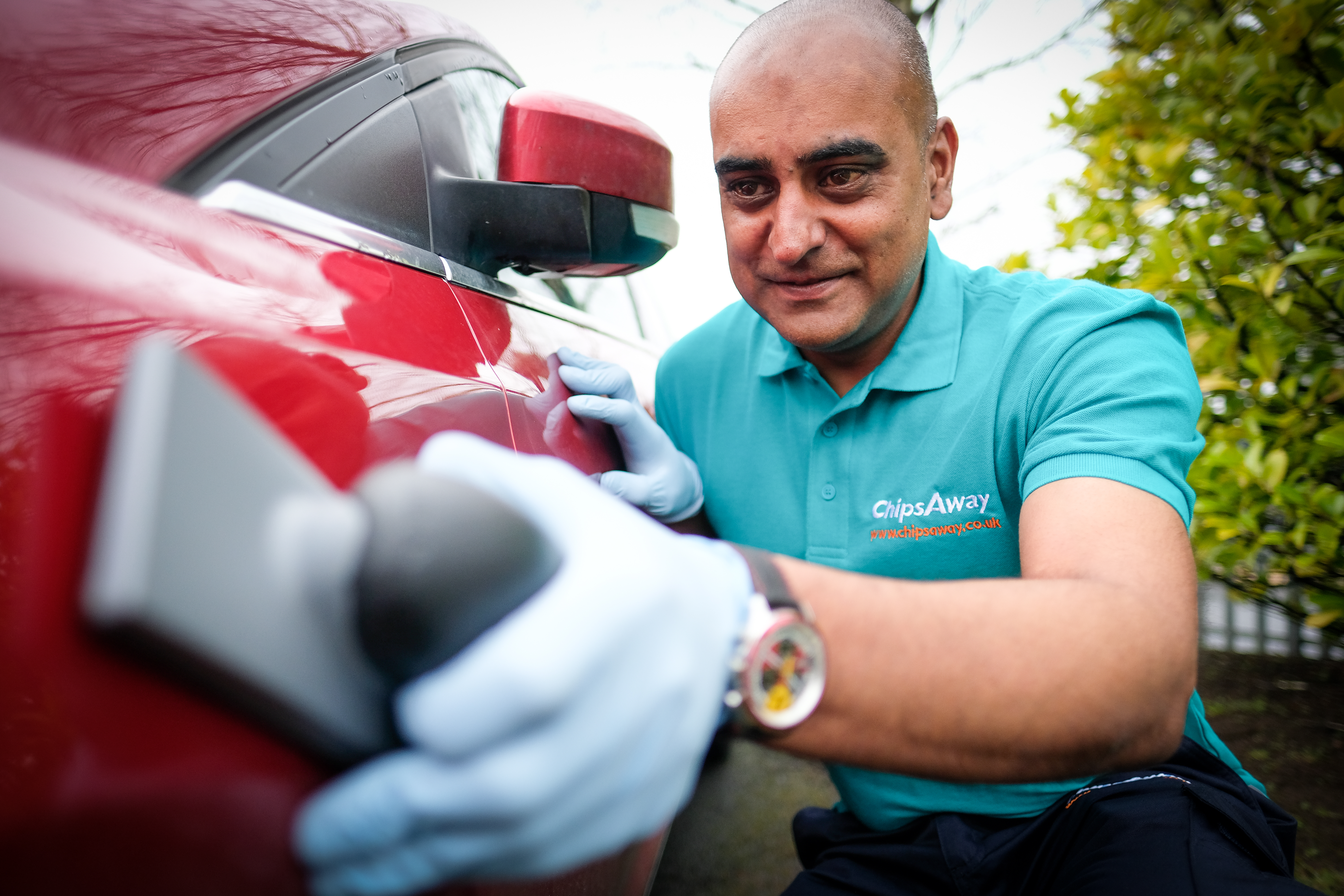 SMART (Small to Medium Area Repair Technology) is the process of repairing a car using specialised tools, paint and materials on a localised damaged area. SMART repair avoids the need to remove or repaint the entire panel of the car. Instead, by seamlessly blending the latest paintwork technology and fantastic process, SMART auto repairs technique allows us to focus on the damaged area.
Before the auto SMART repairs process existed, cars would need to be taken into body repair shops, often for days or even weeks at a time, for relatively minor damage. It also used to be incredibly expensive for a simple repair, due to the fact that entire panels would need to be removed to fix a small dent. Now, with the benefit of technological advances in car repair techniques, SMART repairs mean that damaged areas can be repaired in a matter of hours instead of days. This then has a ripple effect, dramatically reducing the cost of the repair compared to using a traditional bodyshop service.
Why choose a SMART repair?
There are a few core reasons why you may choose a SMART repair over going to your local car bodyshop. The main benefit of a SMART repair is they are usually cheaper than going to a traditional bodyshop. The reason for this is because SMART repairs allow us to focus on one area as opposed to needing to repair the entire panel (as mentioned above). This means that only a small area of the vehicle needs to be repaired, taking a lot less time.
The lower cost of a SMART repair means that it often comes in at under the excess on your car insurance. This means you may not need to claim on your insurance, so you can keep your no claims discount. That being said, the lower price doesn't mean lower quality! All ChipsAway SMART repairs are carried out to a fantastic standard.
Did you know that recently YouGov researched car damage and showed that 65% of Britain's cars are carrying some form of blemish that could easily be fixed by SMART repair? If you have a small mark or dent on your car that you would like removed, one you have been looking at for a while but haven't wanted to splash out on, then SMART repair could be for you.
Here, at ChipsAway, we offer a service that is based around your convenience. Not only do we have specialist Car Care Centres scattered throughout the country, but we also have local mobile minor body repair experts. This means that we are able to come to you, and a repair can be completed outside your house or workplace – depending on what you need.
What can a SMART repair fix?
From scratches on car bodies to dents on bumpers, SMART repair can be used on a wide variety of different types of damage. SMART repair allows us to focus, providing a fast and flawless repair with a fantastic finish. No matter where the damage is on the car, ChipsAway can fix scratches, dents, scuffed alloy wheels and damaged exterior trim.
Types of damage that are suitable for SMART repair include:
SMART repair is an incredibly versatile form of minor car body repair, and can be used in used for a variety of different damage types.
How do SMART repairs work?
SMART repairs work in number of ways. The SMART repair that is right for you will be dependent on the type of damage to your car. If your vehicle's paintwork has been damaged and dented, then a filler and respray will be required.
If your car has a small dent, that hasn't damaged the paintwork, Paintless Dent Removal (PDR) could be a fantastic option. This is where the dent is gently removed without the use of paint or filler, massaging it back into place.
If the paintwork has been damaged then the good news is that our SMART repair specialists colour match the repair to your vehicle, so there is no need to respray the entire vehicle. Each car will have a code to let the specialist know which paint formula to mix. Many ChipsAway specialists also carry spectrophotometers, which will create a formula to match, even if the paint has faded due to sun damage or on older cars. This allows for us to flawlessly blend the repair into the surrounding area, providing a brilliant finish.
To see the process of a ChipsAway repair in full, please click here.
What are the Benefits of SMART Repair?
There are a large number of benefits to SMART repair. Below we have listed some of the core reasons why SMART repair might be the best option for your car.
Efficient and effective repair: The majority of repairs can be completed within a few hours by ChipsAway repair specialists.
A convenient Service: ChipsAway can repair the damage at your home, office or at one of our 40 Car Care Centres.
Cost-effective car repair: Our repairs are often quoted at a fraction of the price of traditional body shops, as our repair specialists don't need to repaint the whole panel when carrying out a repair, saving you both time and money.
Maximises resale value: SMART repairs will pay for themselves more often than not when it comes to selling your vehicle.
Ensures perfect colour matching: ChipsAway specialists are able to match any factory production colour worldwide.
Fully guaranteed repairs: We are so confident in our repairs that they come with a lifetime guarantee.
High standards: ChipsAway specialists are regularly assessed through ongoing accreditation and skills development.
Why choose a ChipsAway SMART repair?
ChipsAway were the originators of SMART repair technology and have been established in the UK for over 25 years. With over 200 SMART repair specialists and 40 Car Care Centres, ChipsAway deliver the highest quality SMART repairs. With our experts positioned all around the country, your local ChipsAway specialist is never too far away. We are on hand should you have suffered an unexpected dent, scratch, or scuff and want to get it repaired.
Local SMART Car Body Repair Experts Near You
At ChipsAway, we offer minor car body SMART repair services all around the UK. Whether you are in the North, South, East, or West of the UK, we have you covered. Our experts are located in England, Wales, and Scotland – from Cornwall to Aberdeen, Greater London to Ceredigion. No matter where you are, we can help you get your car looking as good as new.
Our SMART repair services include scratches on car bodies, bumper scuff repairs, minor dent repairs and alloy wheel repairs.
If you are looking for a professional SMART repair, then get a free estimate from your local ChipsAway specialist by calling 0800 145 5118 or completing the online form here.
SMART Repairs: Frequently Asked Questions
Below are some of the most frequently asked questions about SMART repair. Alternatively, you can view our full SMART repair FAQ here.
Is SMART repair effective?
Yes, SMART repair is an incredibly effective method of minor car body damage repair. Thanks to our repair specialists using the best in colour matching technology, you shouldn't be able to see the damaged area once the car has been repaired. Our goal is always to get the car looking as good as new, providing a fantastic and flawless finish that you can be proud of.
Are the Repairs Guaranteed?
With ChipsAway, all of our paintwork and dent repairs come with a lifetime guarantee. Any alloy wheel repairs conducted by ChipsAway specialists are guaranteed for six months.
How long does SMART repair take?
SMART repairs are much faster than traditional bodyshops. Where a traditional bodyshop may take several days to complete a repair, a SMART repair can be quicker and more efficient due to only having to repair a small area of the car. This means it is possible for a SMART repair to be completed in just a few hours.
How much does a SMART repair cost?
SMART repair, as a term, covers a large variety of repairs – whether that is a scratch, dent, scuff, or even crack in a bumper. As such, the cost of the repair depends on what it is precisely that you want doing. When determining the price of a repair we often take into consideration the size and location of the damage, as well as the paint of the car. That being said, at ChipsAway we aim to keep our repairs as efficient and economic as possible, with our repairs often costing less than the excess on your car insurance.