Many ChipsAway specialists are mobile, covering towns and cities all over the UK, offering repair services that get your vehicle's bodywork looking good as new. But we do live in the UK, and as our beautiful green land is no stranger to rain, one of the most frequently asked questions we receive is, "Can ChipsAway work in the rain?".
The simple answer: Of course we can!
Our specialist network is made up of both workshop-based, as well as mobile, repairers. But no matter what the weather throws at us, it certainly doesn't deter the network from doing what they do best.
The image below was taken by specialist Steve Perkins of Barnard Castle, who, tucked up safely inside his canopy, never worries what the weather is doing: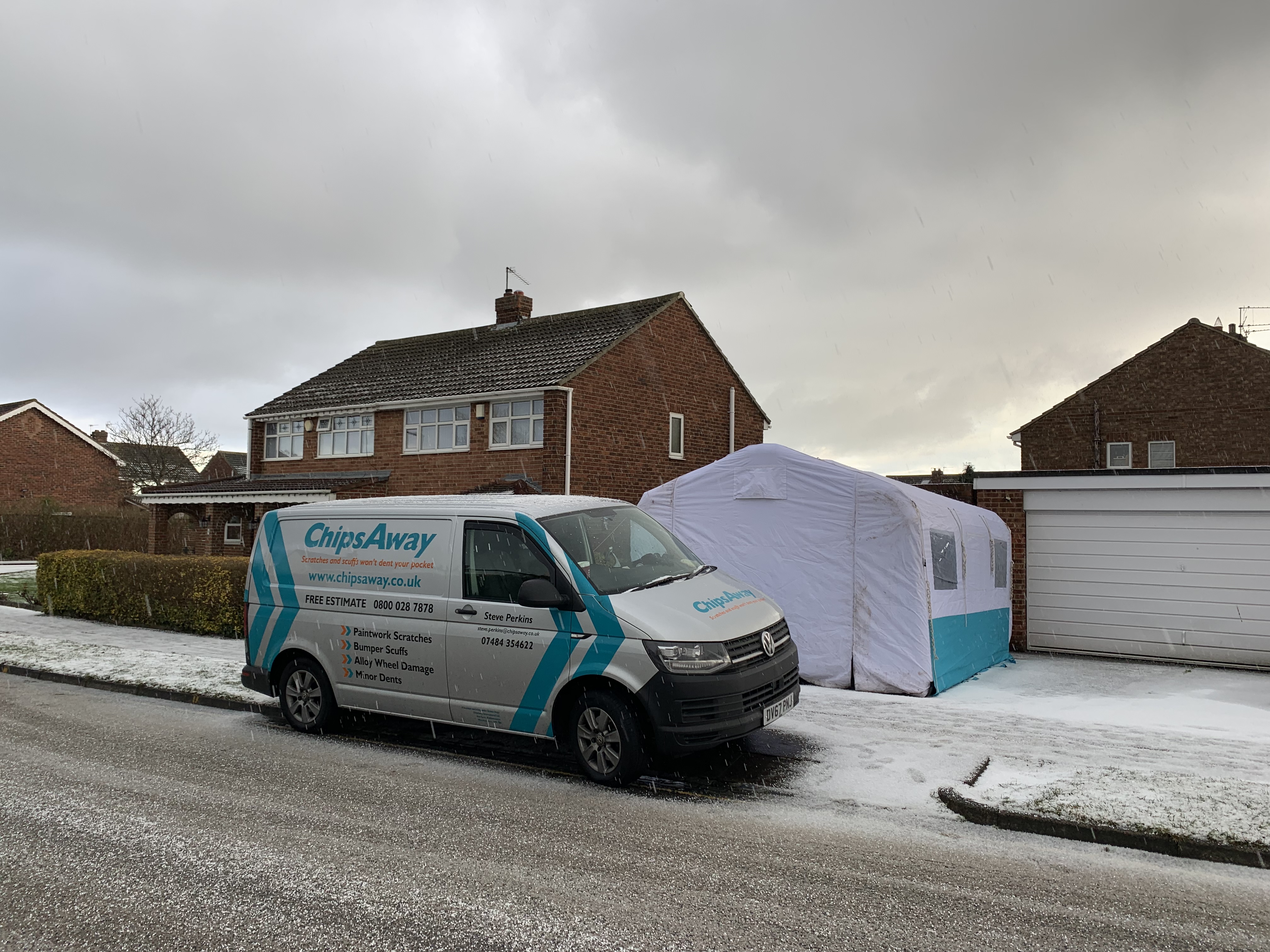 Covered – wherever you are!
Many of our mobile repairers make use of either a marquee for cover or an Airshelta® gazebo – a robust and versatile cover manufactured from high-quality woven polyester with flexible pvc sides that keep your vehicle, and the specialists working on it, enclosed and protected from the elements. Airsheltas can generally withstand most types of weather conditions. They're easy to put up, and take down, which means that we won't spend unnecessarily long periods of time getting things set up before we get to working on your vehicle.
In a recent TrustPilot review by one of our customers, Mrs Porter provided feedback on the day that Dean, one of our ChipsAway specialists, repaired some front bumper scuffs on her vehicle. She writes; "[Dean] arrived as agreed yesterday morning and soon decided the best spot on the drive for my car to be repaired. Dean and the car were soon sheltered from the wind and rain once the ChipsAway gazebo and its three sides was firmly anchored in place. The work to repair the nasty front bumper scuffs commenced and just 4 hours later the repair was complete. My car was back to its pristine best. From my point of view the repair was perfect. Dean left the car and work area clean and tidy"
Naturally, setting up of the gazebos and shelters are always dependent on the location of your vehicle and the amount of space available to our specialist – but if you do have a particular concern, just discuss it directly with the specialist who will try to find a way that's best suitable.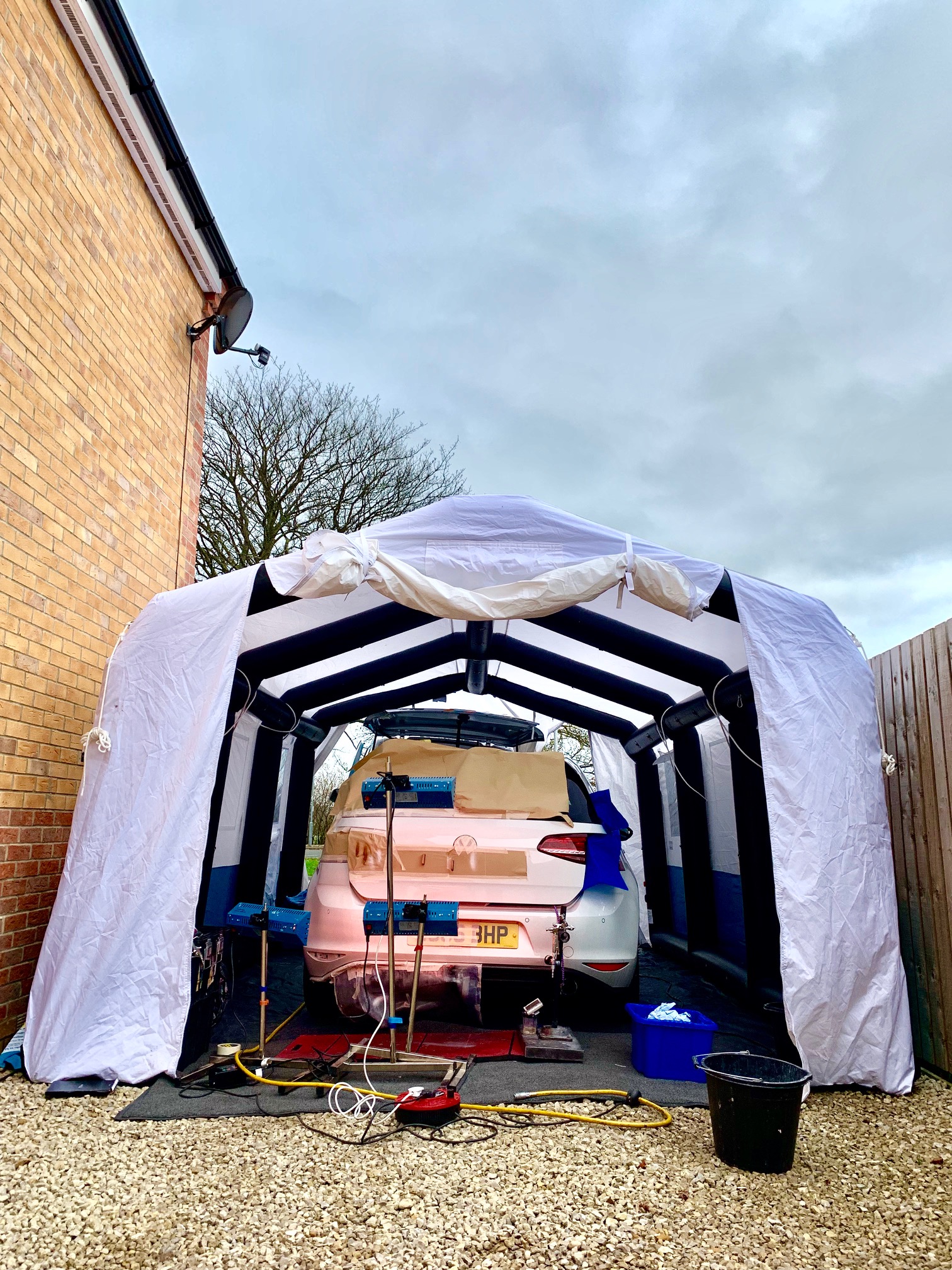 ChipsAway Car Care Centres
In certain parts of the country, customers can also make use of our convenient Car Care Centres – local workshops offering convenient and cost-effective services. With around 40 of these located around the country, ChipsAway Car Care Centres are often able to complete larger and more complicated repairs.
And although many of our specialists are mobile, this doesn't compromise on the quality of the work they deliver. Whether your car damage is repaired by a specialist in a ChipsAway Car Care Centre, or a mobile specialist, you can rest assured that it is being done by someone who is a fully-trained and certified SMART repairer.
If you're ready to get started, and looking to get that damage fixed ASAP, why not get in touch today for a no obligation, free quote, here.