Warning Lights on Car: What Do They Mean?
Every time you start a car's engine, dashboard warning lights appear in different colours, usually behind the steering wheel. These lights are designed to inform you that the systems are all working correctly. If the car is functioning well, all the lights will disappear, however, if one or more light remains on, it indicates there is a problem.
The dashboard warning lights are colour coordinated in red, amber, green and blue depending on how serious the problem is.
Red Warning Lights – you should stop the car as soon as it is safe to do so.
Amber Warning Lights – action is required.
Blue/ Green Warning Lights – consult your handbook for advice before continuing.
Although blue and green warnings are less urgent, it's recommended that you pull over when its safe to do so and check the car's handbook for advice before continuing the journey.
In this article, we will guide you through the most common and important warning lights, but it is wise to read through the car's handbook and familiarise yourself with all the warning lights.
Dashboard Warning Lights: What do they mean?
Engine Warning Light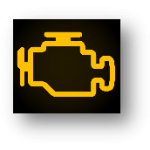 The engine warning light, also known as the 'malfunction indicator lamp', is informing you that something is wrong with the engine. This warning light can appear in orange or yellow depending on the manufacturer. However, if the engine light begins to flash, this indicates a more serious issue. It is recommended that you visit a garage and ask a professional to diagnose the problem.
Oil Pressure Warning Light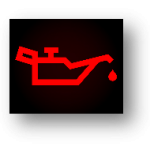 This warning means your engine is running low on oil or there is a problem with the car's oil pressure system. Lack of oil can cause the engine to seize or cause permanent damage. So, if the oil pressure warning light appears, pull over when safe to do so, turn off the engine and speak to a mechanic for advice.
Brake System Warning Light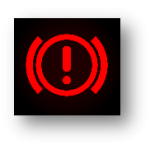 When the brake warning light comes on, it can mean one of two things. Either the parking brake (hand brake) is on, or the brake fluid (hydraulic fluid) is low.
Battery Charge Warning Light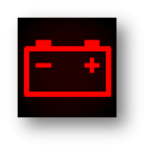 When the battery light appears on the dashboard, it indicates a malfunctioning or poor charging battery. If the warning light appears while you are driving, it means the battery is no longer being charged by the alternator belt.
Temperature Warning Light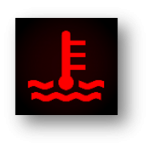 This symbol means that the engine is overheating, likely due to insufficient coolant. In this situation, pull over as soon as it is safe to do so and contact your local garage for advice.
Low Fuel Warning Light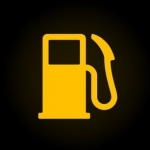 This light is telling you that you are low on fuel, so a fairly simple fix is to stop at the nearest petrol station and fill up. When the light appears, you typically have around 30 miles left in the tank.
Airbag or Seatbelt Warning Light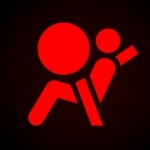 This light means there is a fault in the airbag or seatbelt system. If possible, drive to the closest authorised repairer immediately. If this problem is not fixed, the airbags could fail to trigger in an accident.
Power Steering Warning Light
The power steering warning light is telling you there is a fault with the power steering system. The power steering will most likely be disabled until you get this fault fixed. If this light appears on your dashboard, you should park up as soon as it is safe to do. Take extra care while driving as the steering will be much heavier.
Anti-lock Braking System Warning Light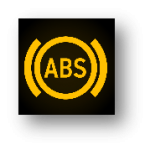 This light is alerting you to a problem with your anti-lock brake system that needs to be diagnosed by a professional and repaired.
Tyre Pressure Sensor Warning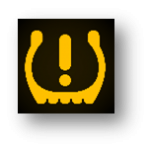 This light is indicating that your tyre pressures are not correct. They could either be too high or too low. Check the correct tyre pressure for your car in your handbook or online and then adjust the pressure accordingly. If you reset your tyre pressure and the light comes back on, visit a local repair centre.
Glow Plug Warning Light (diesel only)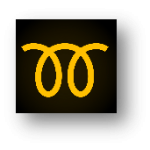 This warning light applies to diesel vehicles only. The glow plug warning light means that the engine's glow plugs are very warm, and the engine should not be started until the warning light disappears.
If the glow plug light begins to flash, this indicates there is an issue with the plug, and it should be checked by a professional.
Washer Fluid Indicator
This symbol means your screenwash is low, so you will need to fill up the reservoir. Once you have topped the screen wash up, the light should go out immediately. Driving with no washer fluid can be dangerous if the windscreen becomes dirty and cannot be cleared, as it will affect visibility.
Seatbelt Warning Light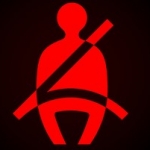 The seatbelt warning light reminds the driver and passengers to wear their seatbelts while moving. If the light appears but there are no passengers, it could be that something, such as a bag on the seat is tricking the sensor into thinking there is a passenger in the seat.
Bonnet, Boot or Door Warning Lights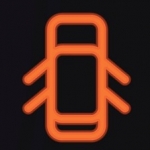 This light is telling you that a door, the boot or the bonnet are not shut properly. Check all the doors are closed correctly, if the light disappears, the problem is fixed. If the light stays on, contact an authorised repair specialist.
Now, if your warning lights come on, you should know what to do. Remember that it is always worth taking your car to a garage to check any mechanical concerns.
But if you want to fix body and paintwork damage on your car, a garage or body shop aren't the only options. ChipsAway offer a fully mobile car body scratch repair and dent removal service that's cheaper and more convenient than a body shop repair. Plus our trained technicians can repair bumper scuffs and fix kerbed alloy wheels too.