Top 10 Best Car Polishers of 2022
If your car is your pride and joy, you will want to keep the exterior looking as good as new. Cars are constantly exposed to the elements and unfortunately this can result in surface scratches, swirls, and staining. However, these types of minor scratches that have not broken the surface of the paint can be fixed at home using a car polisher. But, it is essential to use the correct tools so, we have put together a list of the top 10 car polishers of 2022.
Don't fancy the DIY? Get a FREE Estimate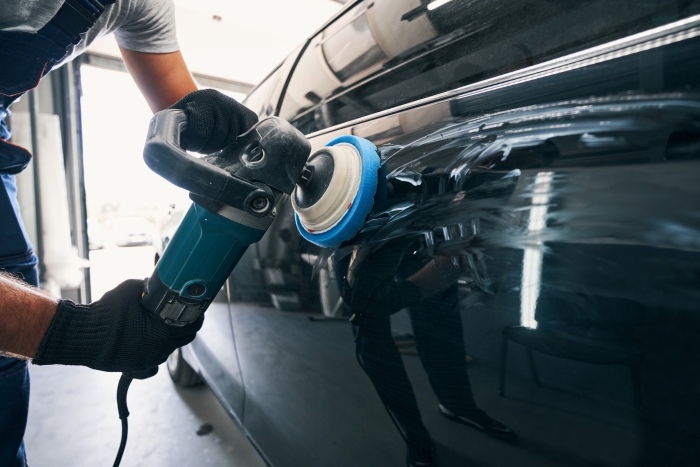 1. The DEWALT DWP849X Buffer/Polisher
This DEWALT DWP849X Polisher is a brilliant choice. It is perfect for regular commercial usage and at home. This option is a fairly expensive one, however it is worth it. This polisher has all the elements you could wish for in a polisher. Having variable speeds, it allows you to always stay in control. There is also an electronic module that is built in. This means the speed will be automatically adjusted dependant on the pressure applied. This feature results in a smooth, even finish. The only downfall to this polisher is that it can heat up very quickly due to the powerful motor.
2. TORQX BUF503 Random Orbital Polisher
The TORQX BUF503 Orbital Polisher is made from high-quality materials, making it a great choice for those looking for a reliable polisher. The design is well balanced and is easy to use on big areas including the roof of a car. This polisher has many features, not only can it polish and remove scratches but it can also apply sealants and waxes. Believe it or not this product can even scrub carpets and clean your headlights. It's powerful and efficient. It has multiple speed triggers that are easy and comfortable to use. This product is fantastic as it is a multi-use application. The only negative we have for this product is it may not be ideal for extreme, heavy-duty use.
3. Cordless Laser 8073 150mm 20V Polisher
This polisher contains five different speeds to help you achieve an excellent finish. It's cordless which is extra handy when dealing with lots of different tools in the garage. This polisher has a comfortable grip and also features a safety switch! This polisher is the perfect option for those looking for a slightly cheaper but effective polisher.
4. WEN 10PMC Polisher
The WEN 10PMC Car Polisher is also a great option if you are on a budget. It is affordable yet performs great. This product is easy to apply a substantial amount of pressure and will still operate at a high speed. Like others above, this product has a two handled grip for increased accuracy. The only fault we have with this product is that it has a slow OMP rating.
5. Milwaukee 1200W AP12QE 150mm Polisher
This polisher isn't as well-known as other brands, however it's a brilliant option. Light weight and long lasting. This polisher is a slightly more expensive option compared to other makes but rest assured you get what you pay for with this polisher! There is a variable speed range which ensures fantastic results when polishing, stripping, deburring and removing rust. This polisher also contains a spindle lock that will save you a lot of time!
6. Griot's Garage Random Orbital Polisher
This is a great product for waxing, paint removal and of course polishing. This polisher is equipped to handle bigger tasks due to its 1000-watt motor. This polisher comes with an orbiting backing plate and bearing construction. There are 6 different speed settings that allow you to monitor the speed carefully and accurately. It contains an adjustable handle with finger grips, ensuring it is easy on hands. If you are looking for something lightweight, this product isn't for you. This product can be noisy compared to other polishers out there due to its power.
7. Meguiar's G3500 Dual Action Power Tool
The good news is that the Meguiar's G3500 Dual Action Power Tool is affordable and versatile. It can attach easily to standard drills however this can limit its power. Although this product lacks the powerful element, it very convenient and handy. Lightweight and small, easy for home use if you don't have a lot of workshop space. Something to note before purchasing this product is that the backing plate cannot be changed.
8. Goplus Electric Car Polisher
The Goplus Electric Car Polisher is another affordable option that has a powerful output. This product was designed mainly for beginners. It has 6 different speed settings and has a handle that can be easily adjusted for accuracy. It also has the function of a safety trigger button. It's easy and simple to store away. The downfall with this polisher is that it heats up very quickly, overheating over a long period of time can become an issue and a hazard.
9. Makita 9237CX3 Polisher
A great affordable product that contains many quality features. It has a rubber handle that ensures you won't scratch your vehicle whilst using it. It contains a speed dial and trigger that helps keep the process as smooth as possible. With automatic speed control it ensures it will maintain it's speed even when under pressure. This product is very heavy and may begin to ache your arms after prolonged use.
10. TACKLIFE PPGJ01A Polisher
Although this polisher has every feature and function you could wish for, it lacks longevity. It's comfortable to use hosting a detachable side handle. The product includes replaceable trays, four different bonnets, cleaning brushes and different sandpapers. There are many things to love about this product. However, unfortunately it is made with cheap low-quality parts that can break fairly quickly. This product can also heat up very quickly, so always be cautious of this.
Overall, we feel the best option is the DEWALT DWP849X Buffer/Polisher due to range of elements and high-quality parts. There are so many different choices out there, it can make it difficult to choose just one. Hopefully our blog has helped a little when making the decision of which polisher to go for. If you have tried polishing your car using one of the products above but haven't had any luck removing the scratches, don't worry. Our specialists here at ChipsAway can remove those scratches like it never happened. You can get a FREE estimate here.
There are several options for polishing your car as you can see, if want to find out more about what the differences are you can find out what a Dual Action Car Polisher is and how to use one, or how to use a car polishing machine to buff paintwork. There are more methods than purchasing your own machine though, so before you go buying one, read the how to polish a car guide here.