How to Prevent Scratches on a New Car
Finding a paintwork scratch on your new car can be an unpleasant and devastating experience. However, there are some simple ways to prevent scratching your new car and if a mishap does occur, your local ChipsAway specialist can repair the damage so it's 'like it never happened'.
Damage to your pride of joy is not only unsightly but can affect the resale value of your vehicle. Depending on the extent of the damage, a paintwork scratch can leave the underlying metal vulnerable to corrosion or rust. Find out why it's important to repair a car scratch here.
Here are our top tips on preventing scratches to a new car:
Park Cautiously
Did you know car parks are one of the most common places to receive a car paintwork scratch? Damage can be caused for a number of reasons including a careless driver, passenger or a stray shopping trolley. To avoid receiving a car scratch in a car park, always park within the white lines, avoid parking near trolley parks and park away from other cars if possible.
Click here for more tips on how to avoid accidents in car parks.
Park your car in a safe location during the day and at night. Parking on the main road could leave your car susceptible to vandal scratches or road debris damage. Where possible park on a private carpark, drive or quiet residential street to avoid scratches to your new car.
Drive Carefully
Car scratches not only occur in car parks or when stationary, but your new car can also become scratched while on the move too. Low hanging tree branches and overgrown hedges on narrow country roads can scratch your new vehicle. To avoid this, always allow yourself enough room when driving on narrow lanes or near low hanging trees and reduce your speed when driving past any object that could scratch your new car.
Driving on a gravel or dirt track road can also cause damage to your car, as road debris and pebbles can hit your paintwork at speed. To avoid debris scratches, drive at a much lower speed or look for an alternate route that avoids gravel tracks.
Hand Wash Car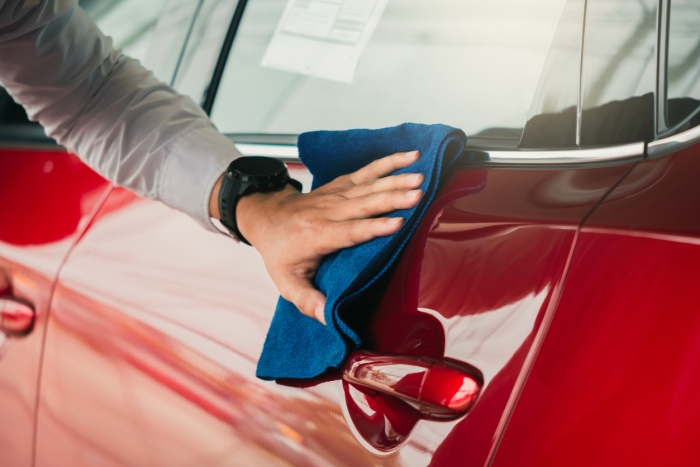 One of the most common causes of a car scratch is incorrectly washing and drying the vehicle. A car's paintwork is very delicate and can become scratched very easily. Automatic car washes are well known for causing minor scratches to cars due to their abrasive brushes.
To avoid this, regularly hand wash your car using the correct method, to avoid dirt becoming trapped in the sponge and resulting in scratch damage.
Wax the Car
Once you have hand washed your new car, you could add a car wax to help prevent scratches. Car wax smooths the paint's surface, which will reduce the friction between road debris and your paintwork. This means any debris from the road is more likely to slide off the paintwork rather than cause scratch damage. Here is our ultimate guide on how to apply a car wax by hand.
Paint Sealant
Supagard is just one of many paint protection sealants that protect the car's paintwork by creating a tough polymer barrier. Unfortunately, paint sealants cannot provide protection against vandal scratches or car parking mishaps but they do provide protection against UV rays, road salt and even acid rain.
At ChipsAway we recommend applying a paint sealant from new or within the first year, find out more here.
Unfortunately, not all paintwork scratches can be avoided, that's where ChipsAway comes in. Here at ChipsAway, we offer a mobile service, so your car scratch can be repaired at a convenient time and location for you, whether that be your home or workplace. Get a free no-obligation repair estimate from your local specialist today.