Car Resprays: 5 Facts You Need Before the Paint Job
Thinking of getting a car respray to update the colour or restore a showroom-new look to your vehicle? If you need more than a paint repair or want to change styles, repainting could be the way to go. We've helpfully rounded up the 5 facts you need to know before you book that car paint job.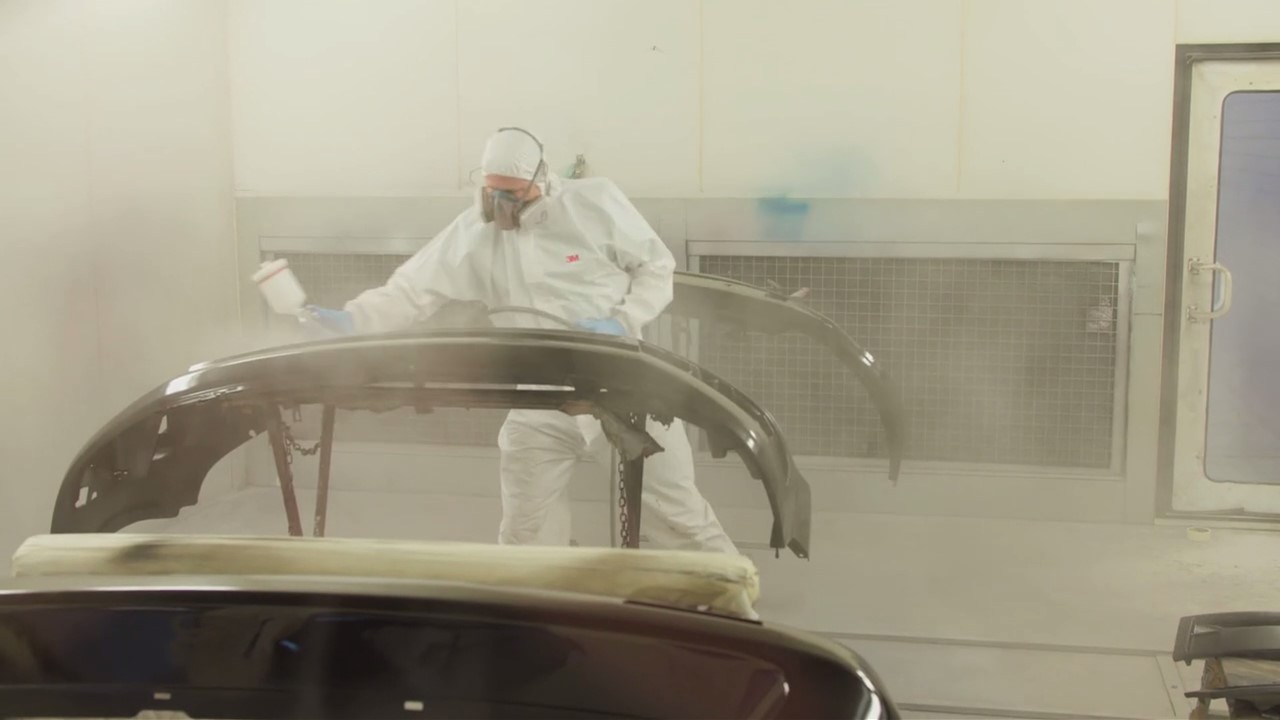 Here's the lowdown on car resprays:
1. They're best left to the professionals
If you are a car whizz and have dedicated significant amounts of time to learning how to respray a car, you have a good space to work, the right equipment and safety gear, it may be that you are ready to take on the work yourself.
If you are like the rest of the people reading this article, it's best to leave paint jobs to the professionals, who will factor in:
Health and safety – there are serious, poisonous chemicals in car paint which are very hazardous as airborne paint particles

Environmental protection – responsible paint use and disposal

The speed and skill that comes with experience
2. Due diligence pays dividends
As with expensive building work, like driveway installations, it's important to do your homework before appointing a paint respray company. Don't be tempted by bargain-basement prices – this type of work requires a high level of expertise and attention to detail.
We recommend getting:
A look at the premises. It's worth checking that everything appears professional and well maintained at the body shop.
Personal references. Speak to recent customers and see their cars if possible.
A range of quotes.
The real question is how much is it to respray a car?
On average, you can expect to pay anywhere from £300 to £5000 or more to respray a car, depending on the factors mentioned below. The cost of respraying a car can vary greatly depending on the size of the car, the type of paint being used, and the extend of the damage being repaired. Here are some factors that can affect the cost of a car respray:
Size of the car: Large cars will generally cost more to respray than smaller cars, as they have more surface area to cover.
Condition of the car's body: If the car has a lot of dents, scratches, or other damage, it will likely cost more to repair and respray than a car in good condition.
Quality of paint: Higher-quality paints will generally cost more than lower-quality paints, but they may also last longer and provide a better finish.
Extent of the respray: If you are only having a small area of the car resprayed, it will likely cost less than having the entire car resprayed.
3. Scratches, chips and car dent removal should be sorted before the work begins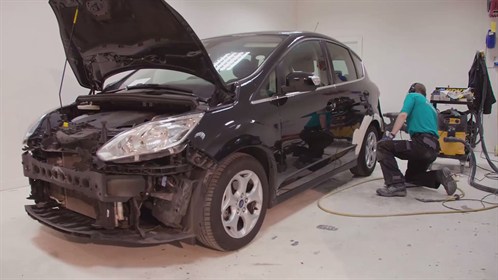 A ChipsAway Technician repairs a scraped wheel arch
The car respray needs to be done on top of a completely flat, as-new surface, after you have had a professional car scratch repair or used a car scratch remover. Don't count on a simple respray to fix rust or scrapes. As mentioned above, if the bodyshop needs to do this work it will add to the price you need to pay.
One option could be to get ChipsAway to complete a repair first, as in the image above, and take it for the respray from there. It may end up being more cost-effective.
4. Masking & prep make or break the respray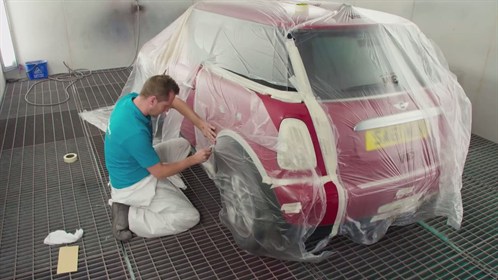 ChipsAway expertly mask the car before repair
There's a lot of skill involved in just prepping the car before any of the actual priming or painting begins. It's a pretty laborious task and there's little room for error – it's the difference between perfection and having to overlook those little areas where it's not quite right. Get it wrong altogether and it can be very expensive to put right.
Technicians will take off any removable trim elements before the paint job – rubber strips, mirrors, etc. and then mask off windows, lights, trims, alloy wheels (anywhere you don't want painted!) with extreme care.
5. There are at least 8 steps the technician needs to go through
And that's after you have repaired scratches, filled dents and masked everything off to the highest standards. The steps of a car respray include:
Choosing the right paint colour (sounds basic but it's so important)

Stripping the original colour

Etch priming and priming

Rubbing down (with fine sandpaper)

Top coat and lacquer

Rubbing down

Buffing

Polishing
These can be broken down – some garages claim up to 125 different steps to respraying a car! But the above are the essentials.
If you bear these facts in mind, your car will look as good as new with its new paint job, just like the Lotus in the ChipsAway Car Repair Centre below (we don't carry out full resprays, but restore cars panel by panel).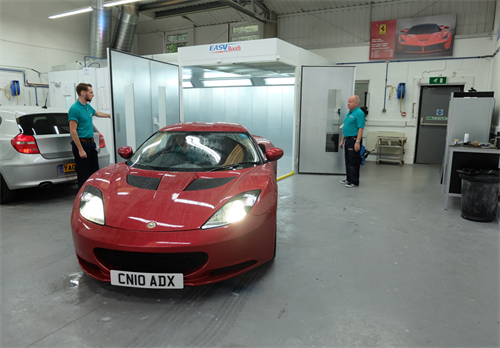 A shiny Lotus looking good as new in a ChipsAway Repair Centre
Of course, if you just need a repair for a car scratch, car dent removal or bumper scuff, or a respray on one panel, there's no need to go to an expensive body shop to get the whole car resprayed! Just fill in our online form and your local ChipsAway technician will be in touch to provide a free, no-obligation quote.