Dent Removal Techniques
Getting a dent in your car can be devastating. Unfortunately, almost every driver experiences a dent at some point or other. No matter how that dent was caused, the resulting blemish can be disheartening and you will want to get it seen to as quickly as possible.
It used to be the case that, in order to get even the smallest dent removed, you would need to take your car to a body shop in order to get the entire panel repaired. Doing so could be both expensive and it could take a large amount of time to complete.
Luckily, over the past few years, dent removal techniques have come a long way. It is no longer the case that a car needs to be dropped off at a body shop in order to get it repaired. Now, through combining technique and technology, it is possible for a car repair specialist to come to you. Not only that, through improving the dent removal technique itself, it is possible for repairs to be highly localised to the specific area of damage, saving both time and money.
Here, at ChipsAway, we are experts in a wide array of dent removal techniques – whether it is as simple as pulling a small round dent or whether it is filling and repairing a much larger damaged area. Throughout the course of this article we are going to explore different car dent repair techniques, and what they mean for your vehicle.
Different Dent Removal Techniques
There are a wide array of different things that can cause a dent. Whether it is a low impact collision, slowly pushing in a panel of your car, to a sharp object that has been thrown back at speed from the wheels of the car in front – dents can vary. This can result in dents that are just dings, to large areas of the car that have been misshaped. No matter how your car has been damaged – there is a car dent removal technique specially designed to get your car back into pristine condition again in no time.
SMART Repair
One of the biggest revolutions in minor car body repair comes from SMART repairs. SMART repair, standing for Small to Medium Area Repair Technology, does away with the need of the traditional dent repair techniques that require entire panels to be repaired for even minor dings. Instead, SMART repairs can be highly localised, as they focus entirely on the specific area that is damaged. This means two things.
Firstly, SMART repairs are often far quicker and cheaper than traditional body repair shops. Due to not needing to repair an entire panel, this makes repairing a smaller area far more efficient.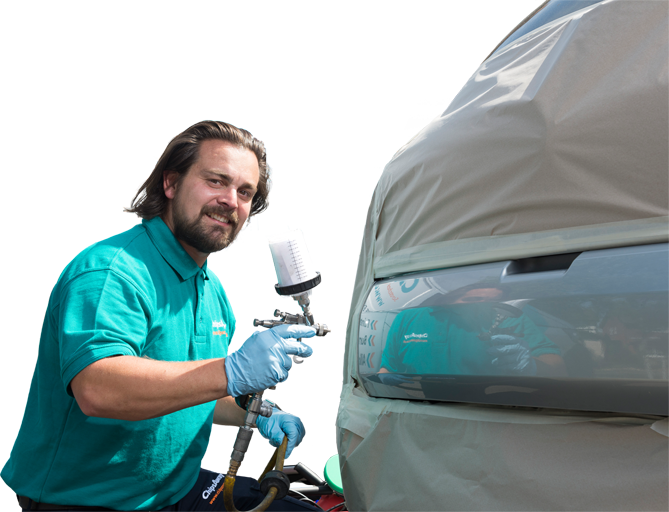 Secondly, due to the nature of SMART repairs, and the fact they do not need to take parts of the car apart in order to repair dents or dings, they can actually be mobile. Here at ChipsAway we offer a mobile service, as well as having static car repair centres, in order to provide a repair that is as convenient as possible.
When repairing dents, SMART repair then breaks down into two separate and distinct types of repair. Those two repairs include paintless dent repair techniques, where the dent doesn't damage the paintwork, and repair where the paint needs repairing due to a crack or a scratch.
Repairing Simple Dents
When a dent damages the surface of a car, but doesn't break the top layer of paint, then it may be possible to massage it back into place. This method, often referred to as paintless dent repair (PDR), is a dent repair technique that is perfect for small indentations or round dents on the car.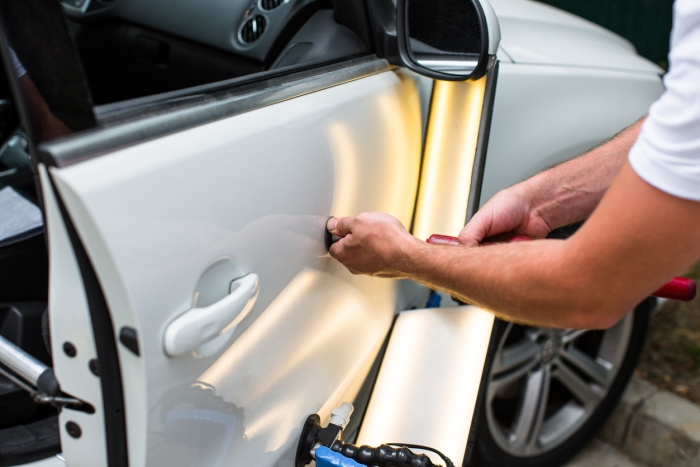 Where there are dent pullers available on the market, they are often generic tools designed to lessen the visual impact of a dent upon the body of a car. Professional minor car body repair technicians, on the other hand, will often use specialist tools designed to perfectly blend the repair into the surrounding area. Those tools are customisable and can be adjusted for the specific make and model of the car, as well as the type of dent they are working on.
Ultimately, what this means is that it is possible for a specialist to surpass the expectations of a store bought product and provide a finish that is second to none.
There are limitations when attempting to remove a dent without needing to repaint the surrounding areas. When the surface of the car has been scratched or damaged, then a different dent removal technique may be needed.
Repairing Cracks or Scratches
Where PDR techniques can reduce the impact of dents that don't damage the paint of the car, a different technique is used to repair cracks or scratches as and when they appear.
Cracks and scratches can cause long term damage to a car. Whether it is a scratch, cutting through the top few layers of paint, or whether it is crack in the front of the bumper, it is important to get them fixed straight away.
The good news is that, when the car body is cracked or there is a scratch visible on the surface of the car, the car can still be repaired back to fantastic condition. To do so, the car goes through a process of repairing the crack, before using top of the range technology in order to ensure it can be painted to the original colour specifications.
Using SMART repair techniques, the dent is repaired using a combination of pulling techniques and filling any areas which cannot be pulled back into original shape completely. The area is then sanded down in preparation of repairing the paintwork. Usually, the paintwork is then rubbed back to reveal the paint and primer layers of the car. From there the paint can be layered back up again to create a fantastic finish.
At ChipsAway, we ensure a colour match by not only taking the manufacturer's colour specifications, but also using a piece of equipment called a spectrophotometer, to ensure that the damage is no longer visible once the repair has been completed.
This car dent repair technique ensures that there is a strong and robust finish.
Car Dent Repair From The Experts
Here at ChipsAway we are experts in car dent removal techniques using SMART repair methods. Over the years we have built up an excellent reputation as leaders in the minor car body repair industry, and have experts positioned nationwide. We have developed a fantastic dent repair technique, by combining our professional methods with the latest technology, in order to give a flawless finish each and every time.
At ChipsAway we are not only experts in dent repair, but we also have expertise in car scratch repair, bumper repair, and alloy wheel repair as well. No matter what minor car body repairs are needed, we are here to help.
You can contact us today, by requesting a free, no obligation estimate. Alternatively, you can call us today on 0800 145 5118 to discuss your needs in more detail.