Young Female Apprentice Jump Starts Career in Automotive Industry
An alternative to a university degree: apprenticeships offer a great balance of both on-the-job learning experience. Together with the more formal assessment side, to work towards the desired qualification.
Seventeen-year-old, Jessica Peck from ChipsAway Loughborough, completed a Business Administrator apprenticeship. Achieving three distinctions and reveals why an apprenticeship was definitely the best decision for her.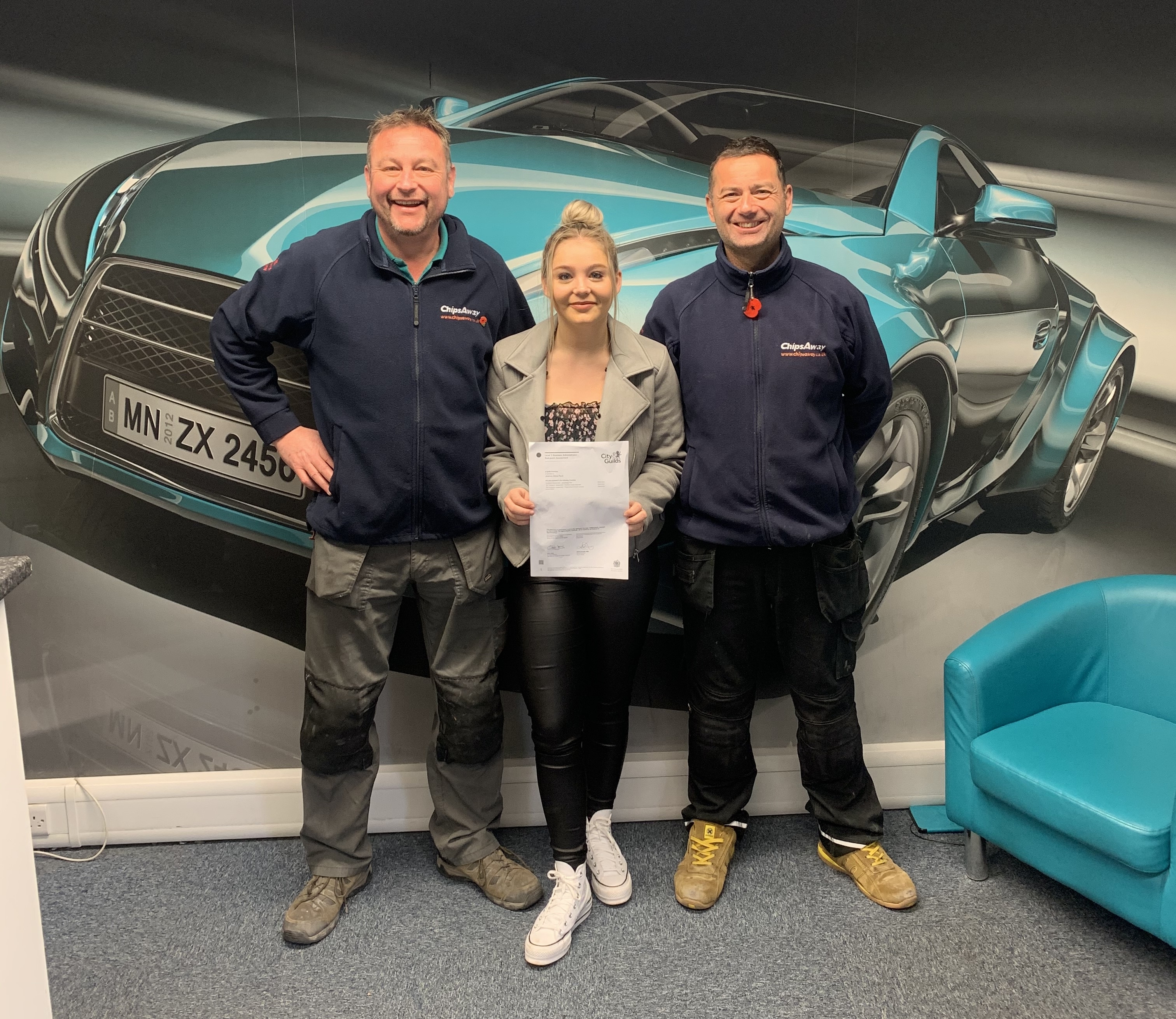 Why did you choose to complete an apprenticeship?
"After I left school, I wanted to earn money whilst also gaining a qualification and learning the job. I had no work experience, so I thought an apprenticeship was the best path. Because it would enable me to gain the experience I needed. I have always been interested in apprenticeships as I think they are the best paths for young people to take."
"I was eager to start making money but I didn't want that to jeopardise getting a qualification."
What are your main duties as an apprentice at ChipsAway Loughborough?
"The main duties of this apprenticeship include answering customer calls, complaints and queries, ordering supplies. To keep the business going e.g. lacquer and completing the business accounts. One of my most important duties is booking repairs in to keep my co-workers busy!"
How do you manage the learning and working aspects of the apprenticeship?
I always found time to complete my college work during my working day. It was really easy to find the balance. I was really lucky with my role as it allowed me to both learn and work with ease
What do you love most about your apprenticeship?
"The course I have completed was good, I feel it taught me everything I needed to know and has put me in a great position for the future. The apprenticeship had easy times and also challenging periods where I needed support from co-workers.
"I love talking to different people every day. Before the apprenticeship. I was really shy and had no confidence. Talking to customers and suppliers on a daily basis has really developed my communication skills. I really love the fact I came into the workplace with zero experience and have learned everything, whilst being paid. The experience has given me a range of skills which I can take forward in the future."
Did you find it difficult to secure an apprenticeship?
"No, I had previously secured an apprenticeship in the dental industry before changing my mind and joining the ChipsAway team."
What advice would you give to someone looking to do an apprenticeship in the automotive industry?
"I would say throw yourself into the experience and most importantly, enjoy it! The apprenticeship has taught me so much, it is such a good starting point for a young person.
"The automotive industry is a really great industry to be involved in. Every day is different and there is the opportunity to evolve and advance your skills.  Although with every industry, it can have its challenges, meeting customers' expectations can be testing, so an apprentice entering this industry should be prepared for this aspect."
Where do you see this apprenticeship taking you in your future career?
"I have always been interested in the Business industry and this apprenticeship has really helped me to learn and develop my skills. This apprenticeship has allowed me to go in to further education, I hope to complete a course at the Open University in Business management."