The ChipsAway Guide to Wheel Refurbishment
There is a lot to be said about immaculate wheels – and anything less than perfect is a source of dissatisfaction for many, particularly when buying or selling a second hand car.
So, it is important to pay attention to the details and keep the condition of your alloy wheels spotless to maximise its appeal. Thankfully, it's not as costly as you may think – replacing your alloys is not the only option.
If your alloy wheels are no longer in pristine condition, a wheel refurbishment can help to restore the appearance of your wheels to their former glory.
Read all about the process in our detailed wheel refurbishment guide.
Why would you need a wheel refurbishment?
If your alloy wheel rims and spokes are no longer in perfect condition, due to those tricky to avoid kerb scuffs, potholes and general wear over the years, a wheel refreshment service can help.
Instead of forking out a hefty sum for brand new alloys, it is often possible to repair and restore them in order to get them looking shiny and new again.
Wheel refurbishment is a savvy way to avoid buying new alloys, while achieving the appearance of a new set. After all, shabby wheels damage your car's overall appearance, making it look old and tired, which may also make it more difficult to resell or part-exchange.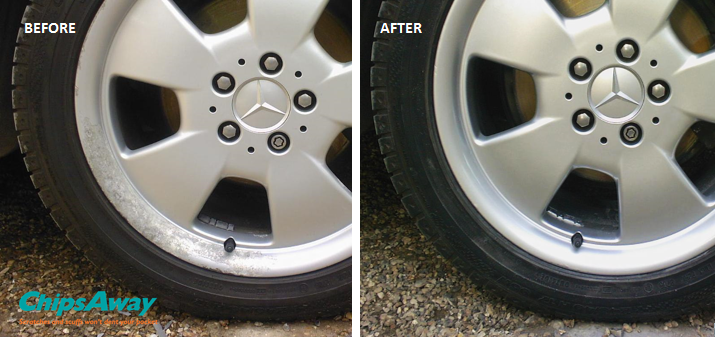 How to repair alloy wheel damage?
Wheel refurbishment is a thorough step-by-step process, whereby the attention to detail is key to its success.
Our alloy wheel repair service involves our specialists cleaning and sanding the damaged area, before applying a filler, primer and paint application. To see a step-by-step explanation of the process, take a look at our blog post, How Does Alloy Wheel Repair and Refurbishment work?
DIY alloy wheel repair kits are available on the market for minor damage, but are not suitable for larger areas of damage. It may be a cheaper option for you than a professional repair and worth trying out for minor scuffs, but of course will not guarantee a perfect professional finish.
For most, your car is probably the second most expensive item you own, so it is wise to call in the professionals, particularly if you want to guarantee a high standard of work. It is also imperative that your alloy condition is safe from future erosion and that the finished work matches your other alloys.
How long does it take?
Depending on the full extent of the damage, a professional service will be able to rectify your work on a convenient day and time for you.
The additional benefit to using a reputable professional such as ChipsAway is the capability to offer a full alloy wheel repair service, catering for every inch of your wheel repair requirements before driving away.
"My shiny alloy wheel looks as good as new after the repair!"

Automotive blogger, Motor Mistress, was thrilled with the end results.
Does it remove every sort of damage?
High kerbs, deep potholes and careless driving are just some of the common causes of alloy wheel damage that a wheel refurbishment service can rectify.
Our experienced ChipsAway specialists can undertake the most appropriate repairs on your alloys. We are able to refurbish alloy wheels to a smooth and shiny finish, whilst also helping to prevent the risk of further damage from exposure to the weather and corrosive road salts.
When it comes to the final finish – you can expect nothing but professional, outstanding results that last.
Why get a professional alloy repair?
For extra peace of mind, you can be assured that all alloy repairs undertaken by ChipsAway professionals are fully guaranteed*.
If your wheel damage is deep or extensive, it's time to call the professionals. ChipsAway alloy wheel repairs are carried out by trained experts using colour-matching technology, to guarantee a personalised finish for every car.
Our service eliminates the need to purchase new alloys and completely refreshes the look of your car. Our alloy repair techniques for scuffed alloys and kerbed alloy wheel rims and spokes are not only fast, but also professional and cost-effective.
How to arrange your wheel refurbishment?
Operating across the UK, our convenient mobile alloy refurbishment and repair service means we can visit you, dependent on your location. Alternatively, you can visit one of our Car Care Centres.
Asking for advice is easy: Complete our online form for a free estimate today or call us free of charge on 0800 145 5118.
Of course, wheel refurbishment is just one of our competencies, we also specialise in Paintwork Scratches, Minor Dents, Bumper Scuffs, and Supagard Paint Protection.
*Alloy wheel repairs are guaranteed for 6 months from date of repair.