ChipsAway – Rallying to Raise Money!
ChipsAway is delighted to announce their entry into the Bangers4Ben, a charity rally, taking place in October to raise funds for automotive charity, Ben.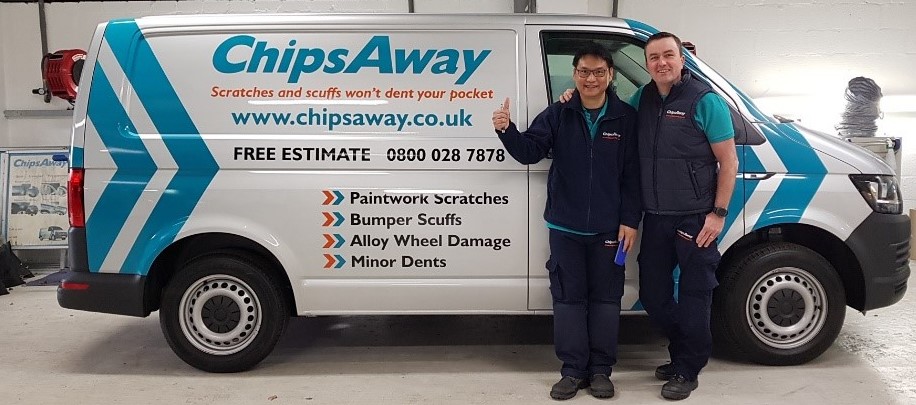 ChipsAway specialists Terrance Thant and Steve Perkins (pictured left to right), who met and hit it off straight away whilst completing their training in January 2018, will be taking on the challenge, and can't wait! They will start their 4-day adventure with an overnight ferry from Portsmouth, spending their first day at Le Mans where they will have the chance to try out some of the famous race circuit itself. The tour continues into Bordeaux along beautiful coastal roads and countryside, and along to Nantes.
All this sounds wonderful, but where's the 'challenge'? All entrants will be driving a car that is worth no more than £750, in themed fancy dress! Luckily the AA will be on hand to help if necessary, but fingers crossed there won't be too many issues along the way. The winners will be those who then go on to sell their car for the most at auction once the event is over.

ChipsAway Managing Director Tim Harris said: "We're delighted to be able to get involved and raise money for this fantastic cause. Ben provides amazing support for automotive people and their family dependants, and we are hoping to raise a substantial amount of money to help them continue providing their outstanding service."
The ChipsAway car is yet to be unveiled, but the ChipsAway team are aiming for it to be far from a 'banger'! Priding themselves in transforming the nation's cars back to their beautiful shining best, their goal is to produce a car that will help show off their paintwork transformation skills. There may also be a bit of a chip theme involved, but they promise to share more once finalised!
If you'd like to show your support and contribute a donation towards the ChipsAway team entry, please visit their Just Giving site.
About Ben:
Ben is an independent charity and dedicated partner to the automotive industry, providing support for life for automotive people and their family dependents. Ben is focused on delivering care and support to enable total health and wellbeing through working and later life.
About Bangers4Ben:
Bangers4Ben is an epic road trip with friends to a location in France which raises funds for Ben. This is an important event for Ben as funds raised help us provide support for life to those working in the automotive industry and their families.