60,000 Reviews on Trustpilot
Just one year after reaching the milestone of 50,000 customer reviews on Trustpilot, the UK's leading minor car body repair specialist, ChipsAway is celebrating again, having now received over 60,000 reviews, with an overall rating of excellent (TrustScore 4.9).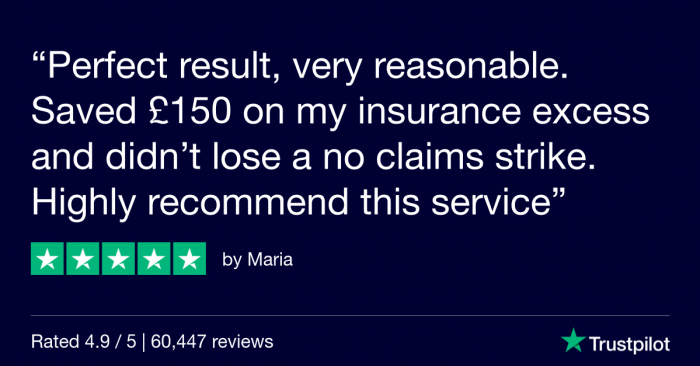 ChipsAway, with specialists nationwide, is the highest ranked minor car body repair service on Trustpilot with over 60,000 reviews, 96% of which are ranked 5-star. The car body repair service also has thousands of 5-star reviews on Google.
To celebrate the achievement, ChipsAway International has gifted the customer who left the 60,000th review with a £200 Amazon gift card to say thank you. The 60,000th review from Mr. Coffey read:
"I have used Mark on numerous occasions over the last 13 years and each time the work undertaken has been excellent and at the right price. This time was a front bumper repair + some minor work which was undertaken to his usual high standards."
When notified of the gift, Mr Coffey said: "Wow, I wasn't expecting that – thank you!"
Rebecca de Chair, Group Marketing Manager commented: "We are delighted to have reached yet another milestone of 60,000 reviews on Trustpilot. Suffering damage to your vehicle can be a very stressful situation so we are very proud to have a network of skilled specialists across the country, who provide affordable and high-quality car body repairs with 5-star customer service."
"With rising costs across the board, including car insurance policies, we are proud to offer a convenient repair service that is often cheaper than the customer's insurance excess, saving both time and money."
If you have suffered a paintwork scratch, bumper scuff, alloy damage or a minor dent to your vehicle, you can get a free, no-obligation repair estimate from your local ChipsAway specialist online (www.chipsaway.co.uk/free-estimate) or by calling 0800 145 5118.