ChipsAway's Youngest Franchisee named as Bodyshop Magazine's 30 Under 30 Rising Stars Winner
Owner of ChipsAway Exeter, Brandon Akerman has been named as one of Bodyshop Magazine's '30 under 30 Rising Stars of 2021'.
Entrepreneur Brandon, joined the ChipsAway network in September 2020, aged just 21. Within the space of only six months, Brandon had developed his mobile car body repair business into a thriving ChipsAway Car Care Centre workshop, taking on an employee to help him achieve his aspirations for the future.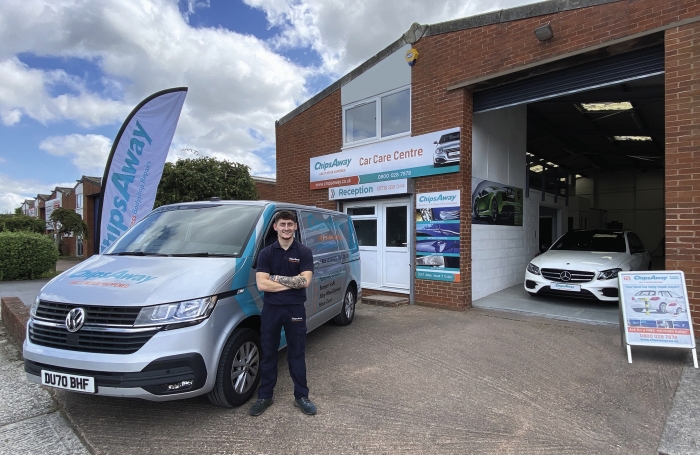 The Bodyshop Magazine 30 under 30: Rising Stars award celebrates 30 inspirational individuals who have achieved something special in their sector and who are earmarked for future success.
Brandon was nominated for the 30 Under 30 award by ChipsAway's Technical Director, Simon Kings after he witnessed his drive and determination to succeed and grow his business.
Owner of ChipsAway Exeter, Brandon Akerman said: "Winning this award means everything to me. I put a lot of hard work and time into my business and sometimes it feels like you are not getting anywhere, so to achieve something like this just gives you that extra edge to push ahead again. 9 months ago, I didn't think I would have what I have now, let alone win such a prestigious award. So, it just shows you can really achieve anything and at my age, the sky is the limit. I also hope that winning this award will inspire more people of my age to consider a career in the collision repair industry."
ChipsAway's Technical Director, Simon Kings commented: "We were delighted to receive the news that Brandon had been named as one of the 30 Under 30 Risings Stars. Brandon is a very worthy winner and a credit to the ChipsAway network. Not only is Brandon a highly skilled repair specialist, he is a very courteous individual and a delight to work with. Brandon should be extremely proud of his achievements so far and we are sure there are even more to come."