ChipsAway 20,000th Reviewer Receives an Unexpected Surprise
As the UK's leading car repair specialist, we care about our customers and our reputation. That's why we were thrilled to receive our 20,000th Trustpilot review this month – and why we've refunded £200 of the repair bill of the customer who wrote it.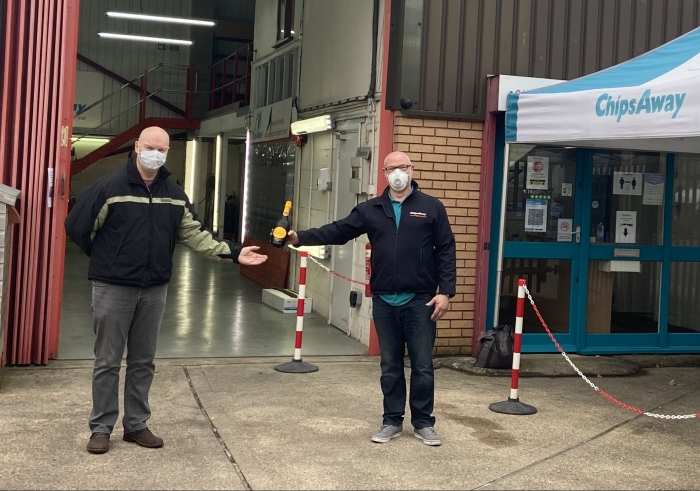 Our random act of kindness saw Mr. Williams from Wellingborough get a whopping £200 refund after he needed his Ford Transit repairing following a paintwork scratch to its wheel arch. Mr. Williams' van was repaired by Tony Blair from the ChipsAway Northampton Car Care Centre, who provided an 'outstanding' service.
Commenting on his repair, Mr. Williams said: "I was shocked and surprised to get my £200 off my repair and a bottle of prosecco – what a lovely gesture! The service I received from Tony Blair was outstanding and I would have no hesitation going back to him for any future car repairs."
Tony Blair from ChipsAway Northampton said: "I'm delighted that we could reward Mr. Williams with a random act of kindness. Our car repair business relies on word of mouth and positive reviews, so I'm really grateful to have received such a glowing review and would like to personally thank Andrew."

Mr. Williams' review said: "Second vehicle we've taken here and another excellent job, customer service second to none. Thank you very much."
Word of mouth recommendations and online reviews are a huge part of running a successful business, and here at ChipsAway, we understand how important it is to deliver exceptional customer service, which is proven through our 5-star Trustpilot rating.
Between June and August of this year, we distributed over 81,000 leads to our 200-strong franchise network – equating to over 400 leads per specialist. The three months of the quarter have led to our first, second and sixth best months in our 26-year history – a testament to our success.
With 26 years' experience, a proven business model and a low initial investment[1], it's easy to see why over 200 UK franchisees have joined us. So, what are you waiting for? Download our information pack and start building your ChipsAway future today.
[1] The franchise is £29,995+VAT, but with the various pricing options that we offer, you only need £15,000 + VAT of your own funds to start your business.