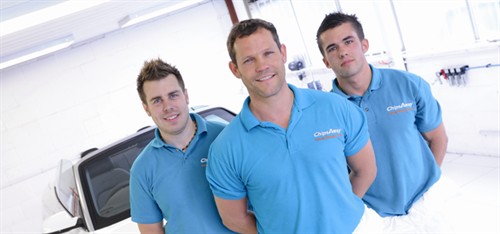 After 11 years as a Royal Engineer in the Forces, Andy was concerned about the transition from the military to owning his own business. Although it seemed daunting, by following the proven ChipsAway business model and taking advantage of the available training and support, Andy had a smooth transition. Since launching his 'man and a van' business in 2002, he has been able to expand his business quickly and has now built up a multi-van operation and team of employees to serve his three territories.
"Whilst I had been very self-assured in the army, I knew that running a business was going to be a completely different challenge" Andy said. "I have always been passionate about cars, so ChipsAway seemed like a business that I would enjoy running. ChipsAway offered everything that I wanted – a great product, excellent training and support along with the potential to grow and expand. It was also important to me to get out and start earning from the moment I finished training and with ChipsAway I was able to do that."
Andy now enjoys a great lifestyle, drives a top of the range sports car and estimates his net earnings are over three times more than his previous salary! "I'm really happy with the way my business has developed." Andy enthuses. "I began by doing the initial research, meeting the people involved and taking home the information to mull over. Once I'd decided to commit, I undertook the training, which was excellent. At the end of it, I felt confident and supported to get out into the field and begin work."
As part of their training, new franchisees spend an initial 4 weeks learning the repair process, they are also mentored on a one-to-one basis by experienced franchisees. The initial course is then followed up 3 months later by a further week of more in-depth dent repair techniques. Furthermore, there is also a sales and marketing module which provides a good grounding on selling and running your business.
Within a couple of months, Andy was already earning the same level of income he had as a soldier! But that was just the beginning. Andy now admits to making 'serious money' as he heads up a multi-van operation spanning three territories, with a ChipsAway Car Care Centre (fixed-base workshop) and a team of trained technicians providing high-quality automotive paintwork repairs to a growing customer base.
"I really enjoyed being a soldier," he says, "but I have no regrets whatsoever about my subsequent career choice. I'm more financially stable now than I have ever been! I certainly chose the best franchise and have been very happy with my decision to expand. Being my own boss is great, the rewards are there if you're prepared to work hard and the satisfaction of seeing your business become increasingly successful is absolutely fantastic!"
If Andy's story has sparked your interest, come and join us on one of our regular, informal open days, where you can meet the team, experience the exciting ChipsAway system first hand and chat with existing Franchisees. Call 0800 731 6914 or enquire here to book your place.