Paintless Dent Removal Explained
Paintless Dent Removal (PDR) is an alternative to conventional SMART repair methods. As the name suggests, the car dent repair is carried out without the need for filling and painting, or a costly panel replacement.
Restoring dents in this way can be the quickest method of dent removal, with dent repairs frequently being finished within a few hours and, once complete, restoring your bodywork whilst maintaining the manufacturer's original paintwork finish.

PDR can often provide surprising results, making them an increasingly
 popular choice for car insurers and company car fleet providers.
Paintless Dent Removal can be a quick, cost-effective option for smaller dents where the paint has not broken, such as parking and trolley dents, or those caused by hail or stones.
It can also be used to compliment a more wide-ranging repair by helping prepare a damaged panel for repainting and minimising the use of filler. This technique is often referred to as "push to paint".
What Does a Paintless Dent Repair Involve?
The process of Paintless Dent Repair requires a skilled technician to manipulate precise locations of metal to the correct height. This is often done from the inside of the body panel, using metal roads and body picks to massage out the dents and return the panel to its original profile.
Fluorescent or LED lighting, or even a reflective board, are often used to help illuminate the damaged area and help the technician visualise the dent as they work.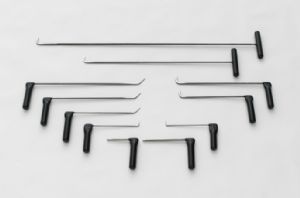 A variety of specialist tools are used to gain access to the back
of dented panels, and carefully massage dents out from the inside.
A number of ChipsAway specialists* are able to offer a mobile Paintless Dent Removal.  It's also a service that we offer at a number of our fully equipped CarCare Centres across the UK. In instances where a dent isn't accessible, or where a dent has caused the paint to crack, we'd recommend a ChipsAway SMART repair.
Benefits of Paintless Dent Removal
PDR repairs are often cheaper than customer insurance excesses, helping keep insurance premiums down.


No risk of paint colour mismatch, overspray or surface contamination, with your car's paintwork remaining unaltered.


Frequently used and approved by leading car manufacturers
*Paintless Dent Removal is only available from a selected number of ChipsAway specialists, please enquire or call us on 0800 1455118 to find out more. 
Related posts
Does the Colour of Your Car Make it More Prone to Prangs?
Damage Hotspots to Avoid in Your New Car
How to Touch Up Car Paint
Image credit: www.denttools.co.uk