What is alloy wheel refurbishment?
Alloy wheel refurbishment is the process of taking a damaged wheel and repairing it to a pristine condition, just like it was when the car rolled out of the dealership. It eliminates the need to purchase new alloys and completely refreshes the look of your car. This is ideal when it comes to selling, part-exchanging or just evincing admiring looks and comments from friends and passers-by (always a bonus). If you want to restore your alloys to their original beauty, it's worth getting in touch!
So, how does the refurbishing process actually work?
The wheel refurbishing process in detail
The easiest way to explain the repair process is via illustration, after all a picture is worth a thousand words.
1. We begin by fully cleaning it to remove all traces of grime and dirt. This will reveal the full extent of the damage and scratches to be repaired.


A clean wheel shows the damage in full

2. We then carefully dry the wheel and mask off the tyre, to protect it during the repair process.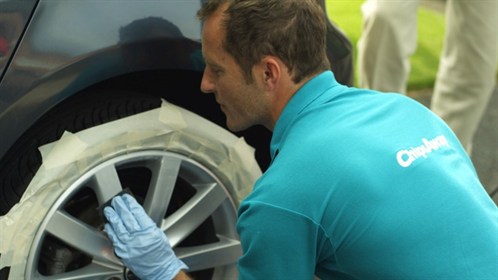 Lightly sanding the damaged area
3. Next, we lightly sand the damaged area before applying fillers to the scratches and scuffs. Once cured, this is sanded again ready for primer and paint application. The technician will colour match the alloy wheel with the correct paint, which is sprayed over the damaged area and blended into the original wheel colour.
4. This in turn is then lacquered to a high gloss finish, cured and polished, to restore the wheel to its original pristine condition!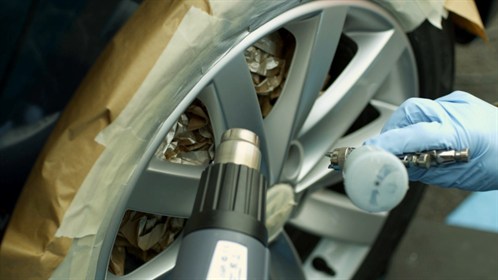 A ChipsAway technicican working on the alloy finish 
How much does it cost to have your alloy wheel refurbished?
It's not possible to give a cost for each repair as it varies according to the extent of the damage, but ChipsAway technicians will always offer the highest technical advice and most effective solution for your repair. You can find out more about the experience of a repair from our alloy wheel repair review by blogger Motor Mistress.
If you want to refurbish your alloy wheels, or just get an idea of the cost, don't hesitate to fill out the form to receive a call from your local ChipsAway specialist today.
Related Posts 
What Can a ChipsAway Specialist Fix?
SMART Repair FAQs
ChipsAway Repair Process - Infographic