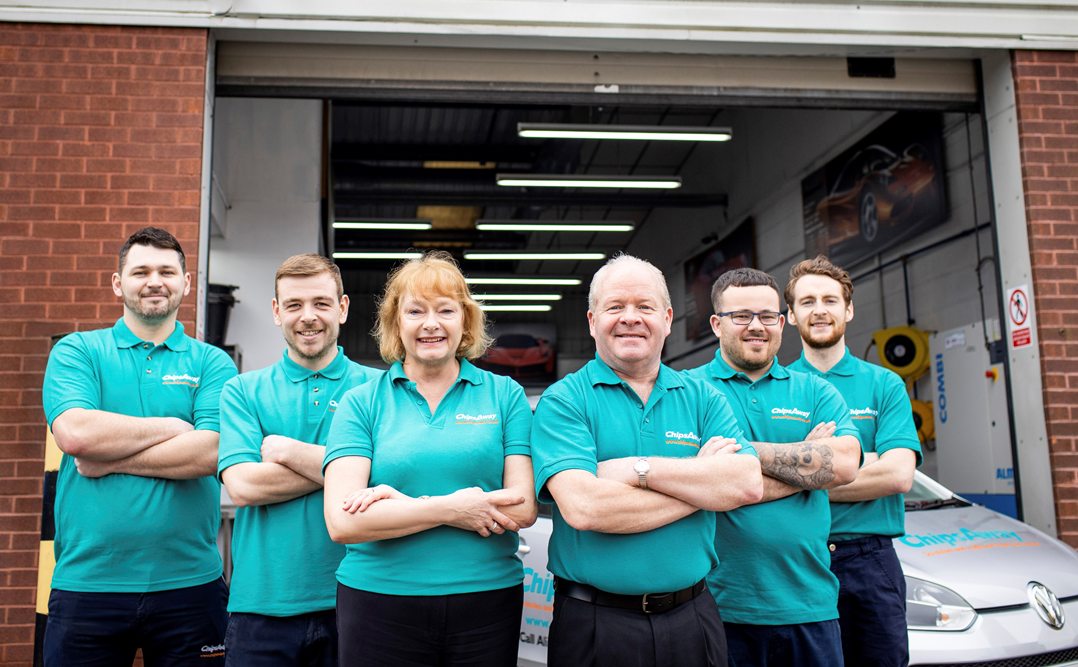 Following years of determination and hard work, Ali now owns one of the largest ChipsAway Car Care Centres, based in central Cardiff. Ali manages multiple employees, and has built an excellent reputation in the city. Here he tells us more about his ChipsAway experience.
"Previously I have held senior sales and marketing roles, and I was looking for a new business opportunity with the potential to grow into a sizeable operation, that would also utilise my sales and marketing expertise.
"ChipsAway emerged as the clear choice, not only offering a saleable business model, but also a growing brand presence in the marketplace. The main thing that attracted me to a ChipsAway franchise was the brand awareness, and secondly the excellent return on investment – you can start making money from day one, yet you have the freedom to grow at your own pace.
"My business grew quickly – after five months, I moved into a small car care centre which was only 1800 square feet. Over time, the centre expanded, enabling me to employ more people and develop the business.
"Since then, my business has grown hugely, enabling me to employ more people and develop the business. At the moment, my son co-ordinates the marketing and social media – he is able to appeal to a certain age group and keep up to date with the latest marketing trends. My wife, Susan, looks after the administration, whilst there are four of us doing the repairs.
"Now a team of 6, with 4 courtesy cars, a beautiful Car Care Centre, and repeat or referral business at around 60%; we are achieving turnover in excess of £300k per year for 3 years running. Life is pretty good to say the least!"
On his way to success, Ali received a great deal of support from the ChipsAway Head Office, who offer specialist services in Marketing and Franchise Support for new franchisees.
"Head Office were really helpful in terms of emotional and practical support and marketing." Ali continues "Marketing and advertising has been my best tool for growth. ChipsAway is really getting it right with their focus on customer marketing and particularly TV advertising. Brand awareness is growing and so is market share – it's an exciting time to become part of the ChipsAway success story!"
We asked Ali if he has faced any challenges in growing his business; "Initially, it was hard work and we worked 7 days a week for a couple of years. You get out what you put in with ChipsAway, but the hard work has now paid off, and we have been able to stop working on Saturdays!"
With a clear vision and a lot of hard work, Ali has achieved his goal of opening a successful Car Care Centre in the city. However, Ali isn't going to stop there. He claims that the growth of his ChipsAway business is only just starting.
"I'd like to employ another repair specialist, or an apprentice in order to generate a higher turnover, whilst I move more towards business development, sales and marketing. At the moment we generate £1250 – £1500 per day / £30k per month turnover, and it will be key for us to and maintain our performance and quality levels during the next period of growth. I'd also like our centre to open for longer hours, but ultimately I want to ensure all my employees enjoy coming to work and doing what we do best."
When asked if he would do it all again, Ali cried "Yes! Why wouldn't I? Growing your business is a long term project, and I've only really just begun! Like any business it takes time to grow, but with a ChipsAway franchise if you continue to work hard and be patient, then you will be successful."
If Ali's story has sparked your interest, come and join us on one of our regular, informal open days, where you can meet the team, experience the exciting ChipsAway system first hand and chat with existing Franchisees. Call 0800 731 6914 or enquire here to book your place.