Top 10 Car Activities for Long Journeys 
Families confined together in the car for hours and hours has the potential to be a disaster, but it doesn't have to be. There are many ways to keep everyone entertained and happy while on a long car journey. From movies and podcasts to games and music, here are our top 10 car activities to prevent boredom and bickering while on a long car journey.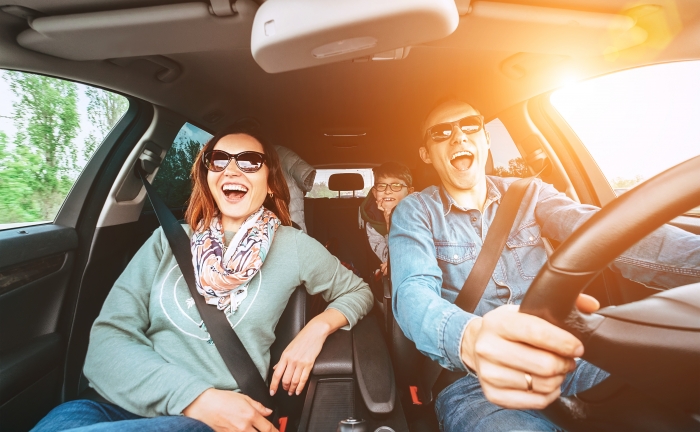 1. Car Activity: Watch a Movie
Watching a film is the perfect road trip activity, your family can escape to an exciting fantasy land from the comfort of the car seats. In a world full of 5G, iPads and smartphones, sometimes you can't beat a good old DVD. In-car DVD players are a fantastic gadget that offer a perfect solution for backseat boredom. Passengers can sit back and enjoy their favourite film while on the move.  If all your DVDs have been given the boot, then opt for downloading the latest blockbusters from streaming sites onto tablets and smartphones.
Whether you decide to go with DVDs, downloads or both, make sure you stock up – its always better to have too many movies than not enough.
Travelling Tip: don't forget to pack the headphones so everyone can enjoy their movies in peace.
2. Stop and admire the view
Sometimes just simply stretching your legs and admiring your surroundings is all the entertainment you need. If your journey is majority motorway based, plan in a pitstop in the countryside around halfway. If you are travelling with young children, this will give them chance to burn off some energy and get some fresh air.
 3. Listen to a Podcast
Podcasts are becoming increasingly popular amongst all age groups, so they make the perfect journey entertainment as there is something for everyone. From comedy and sports to news and true crime, podcasts offer guaranteed entertainment. There are even fun and engaging podcasts for children, including science, English and mystery. Podcasts are not only fun but a really effective way to stay stimulated on a long trip.
 4. Read Reviews as a Car Activity 
If you are on route to a fantastic family holiday, then its important to get to know the local area you are visiting. It's now easier than ever before to gain information about a holiday destination. There are also thousands of reviews online, so make the most of their advice and suggestions, you may find a really cool activity or restaurant for your holiday.
 5. Document your Trip
Documenting your journey can be more than just taking a couple of photos here and there. Why not encourage all the family to get involved with making videos, taking photos and making a note of the cities you pass along your journey? Time with family is all about making memories, so use this time to document and remember the good times.
 6. Read a book or magazine
If you have a long journey ahead, then pack a few books and magazines. Activity and colouring magazines are great entertainment for the little ones, so stock up on those. Then why not take the free time you have to get stuck into a good book.
 7. Play Games
It's time to go back to basics with this activity by playing some games. Keeping children happy in the car is a number one priority, if they are happy, the journey always seems a lot easier. So, here are our favourite in-car games, which provide fun for all the family.
Word Association Game
I Spy
20 Questions
Car Colour Race
Would You Rather
 8. Listen to Your Favourite Music
Before departing on your epic trip, download all your favourite music, so if you lose signal along the way, you can still listen. Better still, why not create a couple of playlists.
 9. Learn a New Language
Whether you are travelling the in the UK or abroad, take advantage of the spare time by learning a new language. This activity is perfect for all members of the family, even the driver. There are hundreds of language learning apps such as Duolingo and even the driver can take part in an audio course. For those not driving, watching a film in the foreign language with subtitles can really help with the learning.
 10. Car Picnic
There's something about long car journeys, that always makes us think – 'food!'. "Are we there yet?" and "I'm hungry" are the mantra of most long car journeys, especially with little ones. There's no better boredom killer, that a good old picnic and even better, a car picnic.  But on the move, it can get messy, so here are some finger food ideas to keep everyone entertained and moderately clean!
Grapes, raisins, blueberries
Dried fruit and nuts
Cherry tomatoes
Cheese sandwiches
Bread sticks
Sliced pitta bread
Hard boiled eggs
Cucumber, pepper and carrot sticks
Mini sausages and pork pies
Rice cakes
Cartons of juice and plenty of bottled water
Things to Pack for a Long Car Journey
Its good to make a long car journey as comfortable and stress-free as possible, so don't forget these items:
The all-important picnic and snacks
Headphones for all travellers
Antibacterial/ baby wipes
Empty bag for rubbish
Anti-sickness tablets
Paper bag for any mishaps
Blankets and pillows
Plenty of water
Digital entertainment: iPads, DVD players, phones, laptops are chargers
Sunglasses
Remember passengers don't need to be entertained every minute of the journey. The whole car will benefit from a little quiet time to take in the surroundings and admire the views or even have a little sleep.
We hope you enjoy our car activity suggestions and wish you a safe and fun trip!