Safe Driving in Winter
Highway Code facts for safe driving in Winter
The change in the weather has been sudden and despite reports of a heatwave over the weekend, at ChipsAway we're a little sceptical! We are now in the heart of Autumn so it's important to make sure you're prepared for the change in driving conditions – whether you're a new driver or a veteran! If you've been driving for a few years now, chances are you don't remember everything from the Highway Code that could help you out this Autumn and Winter – not to worry, we're here to help. Here are some of the key facts you need to know to help you get around safely this year.
Stopping Distances
Particularly when the weather is icy and wet, you need to remind yourself of how much time to allow when bringing your vehicle to a standstill.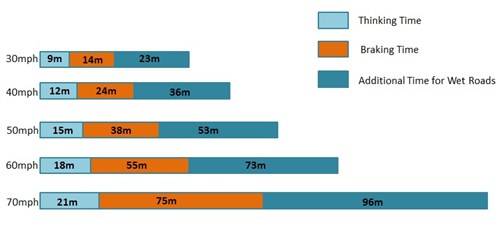 Aquaplaning
Aquaplaning can be very unnerving when it happens, and it's important you do the right things to avoid losing control of your car. For more detailed advice on how to drive your car when it's aquaplaning, check out our blog from earlier in the year by clicking here.
If you breakdown
It's happened to the best of us – and it's no laughing matter – particularly when you have to vacate the car when it's pouring down with rain outside. Be as safe as you can and follow the guidelines set out by the Highway Code;
Try and move your car off the road as soon as possible
Use your hazard lights to warn traffic of an obstruction
Use fluorescent or light coloured clothing to improve your visibility
Place a warning triangle at least 45m behind the car – but never do this on a motorway
Don't stand between your vehicle and oncoming traffic
To get back on the road as quickly as possible, consider getting breakdown cover
What headlights to use and when
Technology in cars nowadays is great and automated wipers and lights can be really helpful. However, it's important to still use common sense – your car isn't always right. Knowing which lights to have on dependent upon the weather conditions is crucial for safe driving and it's not enough to rely on your car. These are the main rules;
Use dipped headlights in built up areas at night and also when there is poor visibility during the day
If you're overtaking, keep your lights dipped until you are passing the car, to avoid blinding the car you're overtaking
Only use front and rear fog lights when visibility is low, they must be turned off as soon as they are no longer required
When queuing in traffic, you should use your handbrake and take your foot off the brakes to prevent unnecessary glare to the traffic behind you
Ensuring your car is running correctly
If any warning signs light up on your dashboard, you should pull over and identify the problem before driving any further. It's important to read your handbook so you know what the lights mean, and can sort the problem out as soon as possible. The same goes for tyre pressure, they should be inflated according the handbook and you should check them regularly as this can affect fuel consumption, as well as safe driving.
For other tips on maintaining your car in the Winter, check out our Twitter and Facebook pages next month where we'll be bringing you tips as part of our Car Maintenance Month!
How much of this do you remember from when you passed your test? Be honest!
For any other tips on safe driving, visit https://www.gov.uk/browse/driving/highway-code – it's definitely worth familiarising yourself with the rules ahead of the turn in weather. Check out last year's blog with Winter driving tips by clicking here.