ChipsAway Top Car Cleaning Tips for 2022
Unfortunately cleaning the car is one of life's unavoidable tasks. Cleaning the car can take quite some time and isn't always the easiest of chores. However, we have put together these top car cleaning tips of 2022 to ensure cleaning your car is as easy as possible.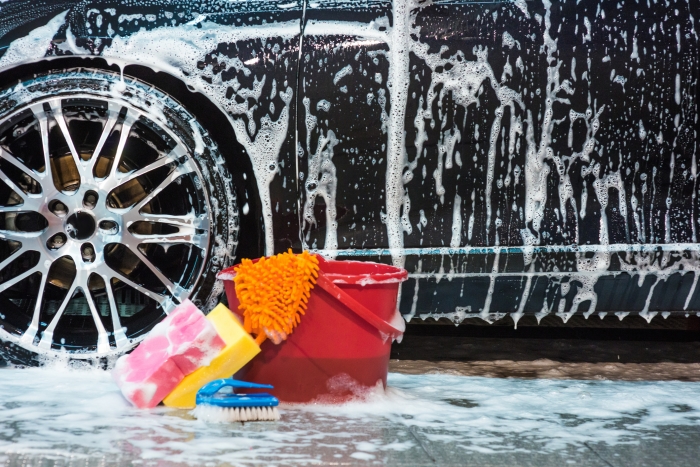 Choice a Good Time to Clean the Car
Although a hot summers day may sound like the ideal time to clean your car, you need to be careful when using certain products such as wax or cleaning formulas in the hot sunshine. Blazing conditions may cause damage to your paintwork. Instead, choose a cooler, cloudier day where there isn't too much sunshine. You will get a much better finish using these products out of direct sunlight. If you would still like to clean your car on a warm day, you certainly can. However, consider giving it a good hose down and wash it using car shampoo or light cleaning products to avoid any damage.
Clean The Inside First
To effectively manage your time, we recommend beginning with the inside of your car. Search the area and remove any rubbish, coins or unwanted junk. It's important to do this before you begin cleaning to make the process as quick and easy as possible.
Always Remove Floor Mats
If you want to clean the inside of your car quickly, use a vacuum to clean your car floor mats whilst they are still in the vehicle. However, if you want a thorough clean, remove the mats entirely. Move the mats to a separate area and give them a good hose down. Use hot soapy water to scrub either side of the mats and then rinse. Leave them outside to dry naturally whilst you continue with the rest of the car.
Use a Dustpan and Brush
Before vacuuming the dirt and crumbs from your car flooring and seats, first try using a dustpan and brush. The bristles will help remove any deeply embedded grit or stones. Once everything has been brushed, go over it all with the vacuum. You will be left with much cleaner car seats and carpets.
Makeup Brush Hack
After you have used the vacuum along with the dustpan and brush to remove any debris from the car. You may still be left little bits in the small nooks and crannies of the car. A great hack to remove these is by using a small, clean makeup brush. The tiny bristles will be able to get in between all of the small cracks and remove the dirt that the vacuum could not reach.
Cleaning Inside The Car

Using a cleaning product of your choice and a damp cloth, give the inside of the doors, handles and dashboard a good clean. Using a window cleaner, wipe the inside of the windows using a microfibre cloth.
Removing Odours in Car
It's a good idea to invest in a good quality car air freshener, these will help eliminate strong odours such as pet smells and other unwanted nasty smells. If you want to go the extra mile, you may wish to consider a single-use aerosol. You place these aerosols in your car, which are then circulated through the vents. You just need to make sure all of the windows are up, turn the blowers on and shut the doors. The aerosol will go off producing a strong smell which will combat the lingering unpleasant odours and eliminate them completely. The vehicle will then be safe to return to after 15 minutes.
Cleaning the Car Exterior – Use Snow Foam
Using a car pressure washer and snow foam, is the quickest and easiest way of cleaning your cars exterior. Start from the top and work your way down. Give the car a quick blast to ensure it's wet. Use the snow foam to coat the car completely. Using sponges or a large cleaning broom, gently scrub the foam into the car. Rinse the foam off using the pressure washer and it should be left sparkling clean.
Use a Microfibre Cloth to Dry The Car
It's important to dry your car after the wash to avoid unwanted water marks. Using a soft microfibre cloth is a great option as it will absorb all of the water and leave it looking sparkling.
Give Your Tyres Some TLC
Alloys can become dirty and covered in road grime quickly, so it's important to give them a good scrub to remove this. Choose a high-quality wheel cleaner and coat the alloys and tyres with the product. Leave the cleaner to work its magic. The cleaner will remove the dirt and grime within a matter of minutes. Using a damp dustpan brush, gently scrub the solution off the tyre and rinse it down using the pressure washer.
After following these tips, you can relax knowing your car is sparkling clean and will hopefully remain this way for a while before considering washing it again. If you drive many miles and use your car frequently, we recommend washing it every month to keep on top of the dirt and grime that may build up.