10 Winter Driving Safety Tips
With Britain gearing up for what promises to be another harsh winter, at ChipsAway we are urging drivers to ensure their cars are ready. As with every British winter, the weather can be very unpredictable, so it's important to plan for harsh conditions and stay sensible throughout the season. We have put together our top tips for driving safely in winter.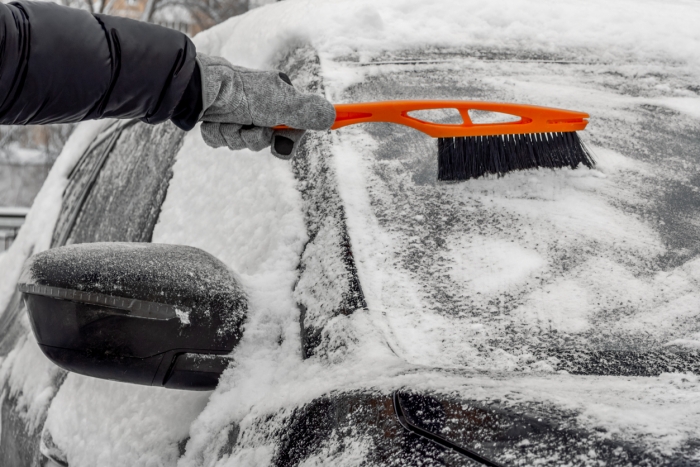 1. Pack the Winter Essentials
Without fail, always have a 'survival pack' in the boot of your car. It should include sensible footwear such as wellies, a spade, a blanket and warm clothes. Plus, it is always wise to pack drinking water, snacks, a torch, spare phone charger, anti-freeze, de-icer and an ice scraper.
2. Prepare your Car for Winter Driving
It's not just what you keep in your car that's important; you also need to complete all the essential maintenance checks to the vehicle itself, and that you as a driver are prepared for the sometimes-treacherous driving conditions. These preparations include:
Getting your car serviced
Wash your windscreen and wipes
Check your breakdown cover
Check the car oil
Top up screen wash
Check brake pads and brake fluid
Look for any warning lights on the dashboard
Double-check your tyre tread/condition
For more information on how to prepare your car for winter, see our guide here.
3. Car Battery Check
As well as the above maintenance checks, it's really important to check your car battery. During winter months, there is increased pressure on the battery, through use of heaters, lights and wipers. Try to turn the heaters off once the car is warm and turn all lights and wipes off when you park, so there is less pressure when starting the car up next time.
4. Top up Antifreeze
As temperatures dip in winter months, car engines can freeze and crack if the antifreeze is not topped up. The location of your coolant reservoir should be in your car handbook, as well as information on the correct type of antifreeze. Most modern cars use long-life antifreeze but some types of antifreeze need changing after only 2 years.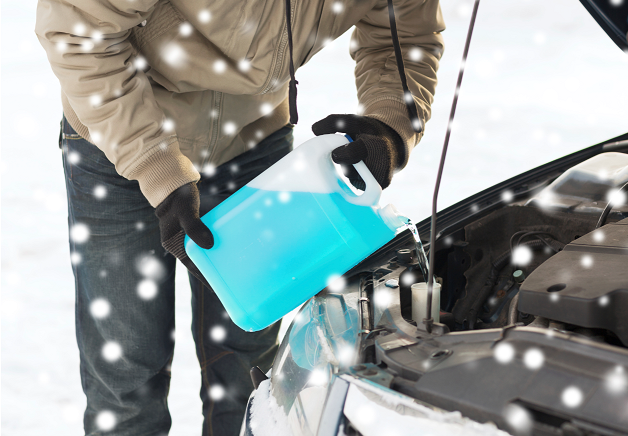 5. Choose the Right Tyres
Make sure your tyres have plenty of tread as this is key to staying safe on the roads. We recommend at least 3mm of tread for the winter. Consider getting winter tyres as these tyres are made from a special rubber that gives better grip in cold, wet conditions.
6. Keep Car Ventilated
Condensation is more common in winter because there is a greater difference in temperature between the inside and the outside of the car. Condensation can build up during a journey and affect visibility which can be very dangerous. To keep the car well ventilated, avoid using air recirculation settings to allow outside air into the car. Also, opening the window slightly will help prevent condensation and keep the car ventilated.
7. Be Visible
With shorter, darker days plus increased chance of rain, sleet and snow, there can often be poor visibility when driving in winter.
Ensure that you clear all snow from your car before setting out – even snow left on the roof, as it can start to melt and slide down your windscreen, compromising your vision. You should also make sure your lights are fully visible, as well as your number plate, as not doing so is illegal. If there is a lot of condensation in your car, wait until it all clears before setting off.
You must use headlights when visibility is seriously reduced. If you use fog lights, remember to switch them off when visibility improves so they don't dazzle other drivers or obscure your brake lights. More on using your lights correctly below.
8. Use Lights Correctly
In the winter months, we experience much more fog, especially on cold mornings. But your fog lights should only be used when visibility drops below 100 metres in fog, this is roughly the length of a football pitch. The fog lights should be turned off as soon as they are no longer required.
During winter, we typically only see around 10 hours of daylight. So, when driving in the dark it is important to have your headlights on. However, you should only use full beam headlights on unlit stretches of road in the dark. When meeting oncoming traffic or following another vehicle, you must turn off full beam headlights as they can often be dazzling and may cause accidents.
9. Understand How to Drive in Snow
Driving in the snow can feel very different to usual dry road driving, so it's wise to brush up on your knowledge of driving in the snow and ice. Start by always clearing snow off your driving shoes, if the soles of your shoes are wet, they may slip off the pedals.
When driving in snow, release the brakes slowly to avoid skidding and pull away in 2nd gear if you can. If you do skid at any point, don't panic and gently release the brakes and clutch.
10. Control your Speed
In normal dry driving conditions, the two-second rule to the car in front applies. However, in wet weather this stopping distance is double and in icy conditions, this can be 10 times greater. So, make sure you match your speed to the winter conditions, if it's wet and visibility is reduced, reduce your speed.
As always, we recommend that you take care of your paintwork in the winter months as the damp weather can aggravate scuffs and scrapes and can develop into rust patches. Give us a call on 0800 145 5118 or complete our online form to find your local specialist for a free, no-obligation quote.